The mobile game industry is growing substantially. According to the Business of Apps resource, this industry showed a $77.2 billion turnover last year. And they report a 12% online players increase in 2020 in comparison with 2019 due to pandemic situations in the world. Game brands are striving to attract more players to lead the market and boost their revenues. Hence, certain trends occur:
More ad investments to improve game monetization;
Game development cost reduction (e.g. applying CTR, click-through-rate test to evaluate whether the game will retain the users);
Gametech deep utilizing to manage more efficient game's lifecycle.
In this article, we'll speak about gametech as a set of software, tools, and services to simplify mobile game development, reduce mobile game development costs and smoothen the process of game design.
How To Create A Mobile Hit Game: Success Insights
The Buildbox (video game software) founder, Trey Smith, shares some dev's secrets how to create popular game focusing on the following issues:
Perform reverse engineering: before starting game development, research the most popular games on the market and become aware of what games people are playing right now.
Choose the right type of marketing.
It's quite possible to design a game even in a small development team utilizing special engines.
Buildbox is a development platform easing programming options. It enables game creation even without deep coding expertise. It has special tutorials and guides on how to deliver a hit game. It also supports different platforms.
However, the simplicity of the platform does not impact the quality of products developed with these platforms. For example, some of the most downloadable games were developed using Unity being popular due to letting the developers create amazing 2D and 3D features as well as arranging collaborative teamwork. Such famous games as Angry Birds 2 and Pokemon Go were developed on this platform.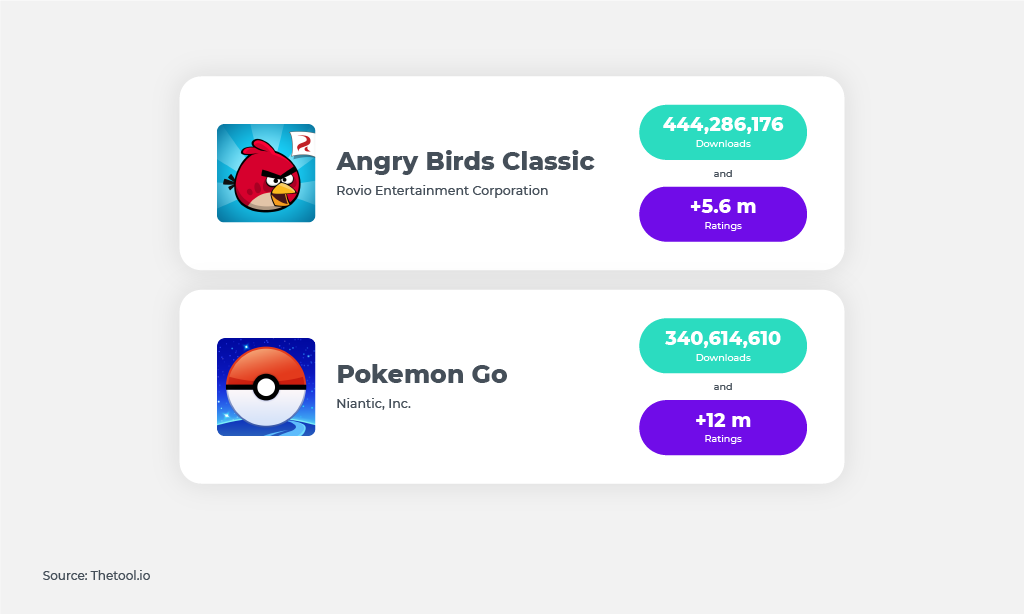 SERC educational platform defines numerous characteristics of a successful game in their blog research:
Fun and reality feature combination.
Capturing game story.
Immediately granted rewards.
Continuous challenges driving the motivation to play the game.
These characteristics are empowered by the cross-platform game development engines. A developer has an option to add a new fun character or a "drag and drop" challenging fight with the enemy. Using popular engines such as Buildbox, Unity, or Unreal engine grants a developer possibilities to design attractive game stories via adding new objects, decorations, assembling challenging game scripts, and what is the most valuable ability to test the game inside the platform.
Let's follow the most demanded top 2021 mobile game development engines, analyzing their pros and cons, peculiar features, and what development issues they are helpful with.
Free And Paid Android/iOS Mobile Game Engines
Logic Simplified as a global technology provider calculated Unity 3D engine is used in 47% of primary game development cases. Moreover, it's treated like an "all-in-one" game development platform combining reasonable pricing models and useful development options. That is why we propose to analyze this engine first.
Unity As A Cross-Platform Game Engine
Unity is a professional-level video game engine. Hackingtons licensed California programming school arranged by the expert coders for kids outlines Unity as "Both too complex and too simple", but at the same time "more than enough to create amazing 3D games". They describe it as an "outstanding balance of expert options and easy usage". Here are the pros of this engine:
It is one of the fastest engines.
It supports about 27 platforms.
The engine provides high-quality video and audio effects to make capturing the game experience.
The user has access to clear guides on how to compose a game.
Debugging is smooth and easy.
Free Unity version is proposed alongside the more extended options $40-$200 Pro, Plus, or Enterprise edition.
Unity is a powerful cross-platform engine that allows our teams to work and iterate quickly. Easy to start and hard to master, Unity is fun to use across developers of various skillsets. Multi-platform development, the rapid evolution of the engine, development support, and huge community make Unity the engine of choice when we work on the next mobile game title.
Oleksii Isaiev,
Head of Gaming Delivery at Innovecs
In spite of all the positive features, some developers mark Unity as a product, which one can apply easily but it takes some time and effort to become a sophisticated user. They note it is not suitable for all the projects, especially when it comes to UI development, because UI solutions are not so automated and robust in Unity.
If one is striving for code clarity and plain architecture it can become a challenge with Unity if a developer does not have enough coding expertise. It takes some time to create perfect architecture because one needs to apply a number of design patterns and plugins. Unity also demands high process speed to function well on the PC. These facts lead to the conclusion Unity is good enough and provides useful features, but it's not the universal one.
Unreal Engine
To understand the full Unreal and Unity features overview it's worth looking at what options are proposed by the Unreal platform to compare these two services wisely.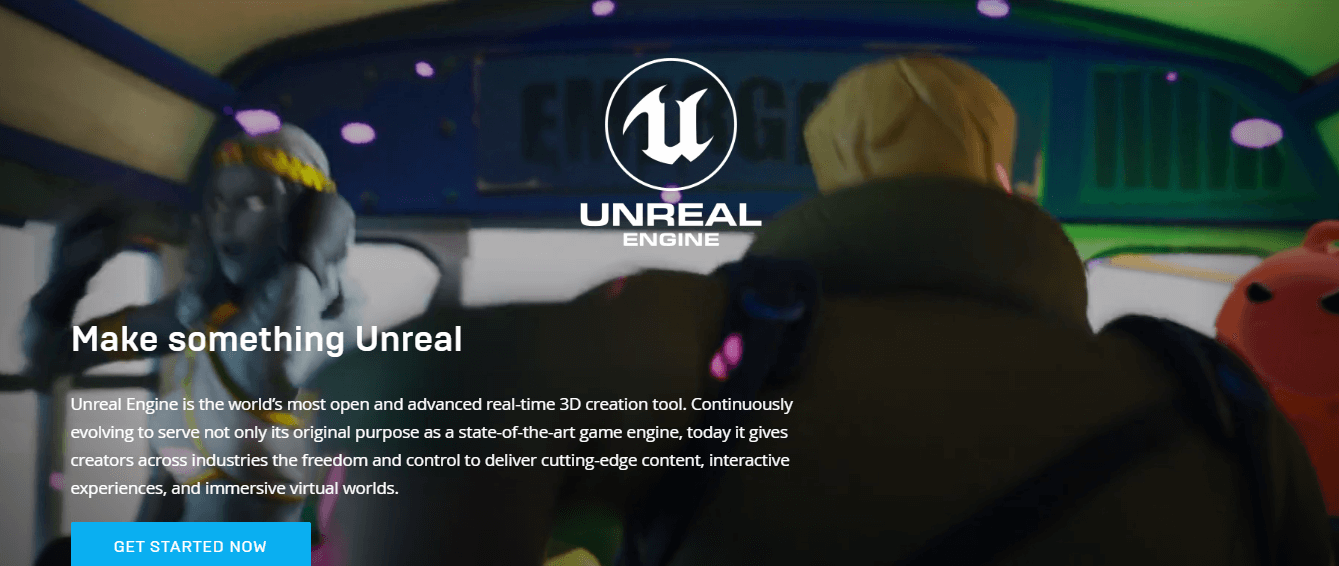 Unreal engine advantage is open-source free software. Outstanding photo assets are available for the developers to perform stunning close to reality graphics pieces. And sometimes Unreal is talked about as a good solution for mobile game optimization.
Since I have learned UE4, I cannot help but analyze games developed, shipped, and optimized with this amazing engine.
From Unreal Engine Forum
Moreover, this engine in comparison with Unity has an attractive pricing model: 5% royalty only in case of more than $1 mln and gross revenue, which is quite convenient for the starters.
Unity Vs. Unreal: FAQs
From the point of view of coding, Unity applies C# and the Unreal engine — C++. And that is the main reason experts say with Unity one can cope with a smaller team, while Unreal is tailored for collaborating on blockbuster's creations like Gears 5, which is more sophisticated work. Unity is not easier, it just seems to be more suitable for smaller teams and individual work.
If Unity is a robust tool for small dev teams, Unreal is a huge tool empowering gaming icons design. And Unity is more suitable to start within the game industry. In spite of the fact, Unity has a good enough asset store, the Unreal engine is reported as having more "polished" assets for global projects.
Engine choice depends on the kind of game you are going to develop: Unity is more suitable for 2D and puzzle-based products, Unreal is better for 3D games.
Solar 2D Engine
Not only Unity is powerful in comprising 2D games. Solar 2D, former Corona SDK, is well-known for its free and outstanding 2D features. This engine is based on Lua scripting language aimed at creating lightweight, but fast code. Developers appreciate the committed and collaborative community of Solar 2D, which is extremely helpful for those who are just starting in the game domain. A valuable feature of Solar 2D is a real-time simulation giving the possibility to learn how your game will look after changes.
This platform contains no hidden charges, fees, and royalties, which make it a popular solution in speeding up the development process.
BuildBox: No Code 2D & 3D Games Creation Platform
BuildBox is known as one of the best Android game maker environments. Capterra reports BuildBox as a tool "for developing games in a quick time".
This platform is much spoken about concerning the most downloadable game creation. For example, Color Switch performed about 75 million downloads and its creation took less than a week. So, Buildbox can be treated as a tool combining speedy development processes and enough tools to perform hit game art. On this platform website, they advise not to lose art quality because it can damage the whole game quality.

SpriteKit For Engine iOS
Apple launched the engine in 2013, and since that time it's honored as a tool for iGames creation. It delivers Swift support and GameplayKit is introduced as well. Developers say SpriteKit virtual resources are enough to make the game development process not only smooth but enjoyable.
A SpriteKit mobile game usually contains several components: scenes, SpriteKit View responsible for displaying all game content to the user, nodes, physics bodies, actions, physics world, transitions (changes of the game scenes), constraints. Here is an example of SpriteKit game hierarchy: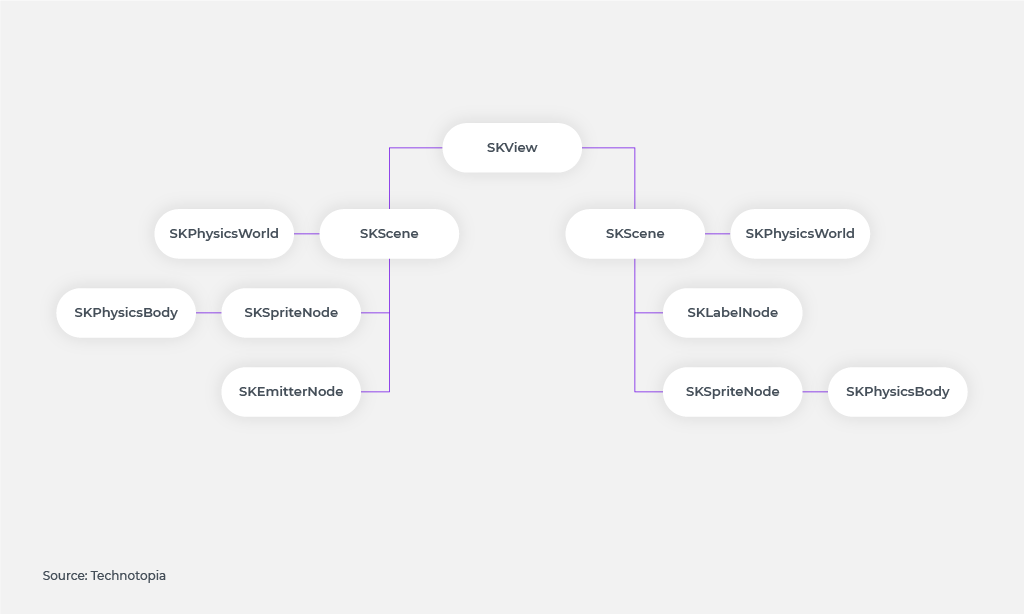 Mobile Games Engines Comparative Analyses
Each engine has its own good features: Buildbox is good for those not willing to be engaged in coding and prefer intuitive UI; SpriteKit gives possibilities for Apple-based games development, Unity is popular in mobile game development if the graphical quality is extremely an option. To recap everything described in this blog article, we propose the chart with the key options depicted.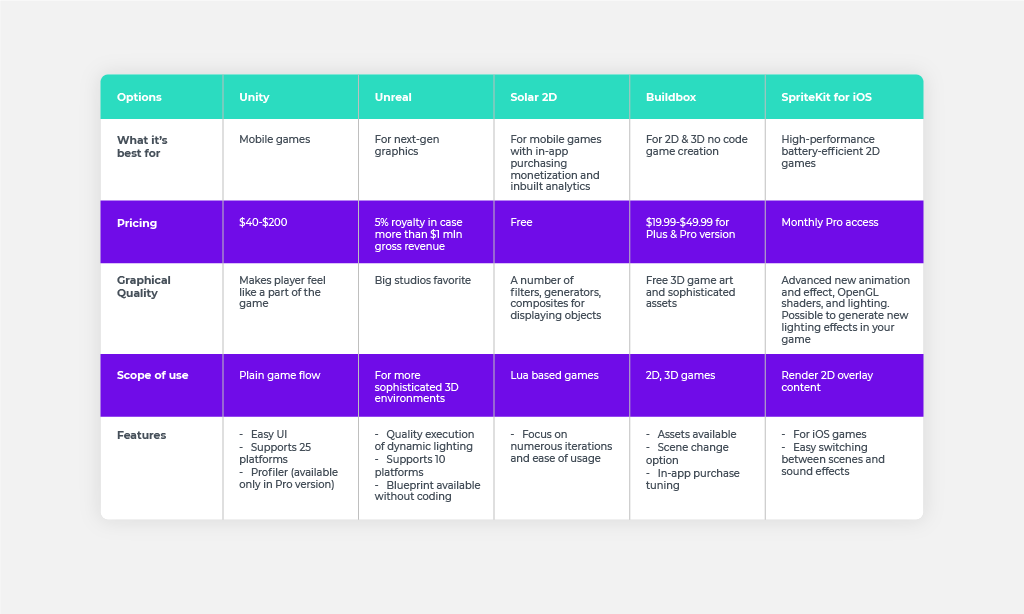 Innovecs deals with native SDK and Unity 3D for mobile game development both for iOS and Android. Using these technologies we perform full-cycle game development, follow-up game development, and game testing.
Bottom Line
Mobile game development is a fast-growing niche because the number of individuals using smartphones is increasing greatly especially under a pandemic world situation and "stay-at-home" mode prompting to play more like a pastime.
Mobile game developers should be aware of the technical characteristics of the platform, smartphones' graphic capacities, and market gameplay trends. Sometimes coding is not the key option in game creation. That is why game development engines come in handy to ease the process of game design. They propose audio and visual effects, ways of object display, animation pieces, in-app monetization options, and even the possibility to test the game before the release.
Of course, game engines are sets of ready-made unified solutions to develop hit games quickly. But it doesn't mean any of the described platforms is perfect. Sometimes to meet your unique game vision it's necessary to outsource an advanced professional team to perform high-end development and art.