Thanks to a huge pool of tech talents, Ukraine keeps rapidly evolving as a global software development provider. PwC predicts that IT industry exports are expected to reach a stunning $8,4 bln by 2025 and the gaming industry will contribute much to this growth.  
Unit.City and Achievers Hub have recently surveyed more than 70 Ukrainian IT companies including Innovecs to learn how big the Ukrainian gaming market is, where exactly GameDev hubs reside, how many developers are working in the industry, what type of games they create, what technologies they use for that, and a few more engaging facts. 
These are the major highlights taken from the Unit.City research. 
Dynamics of the Gaming Industry
Following the research data, 20,000+ software engineers from over 80 companies are involved in GameDev with 40% of them residing in Kyiv.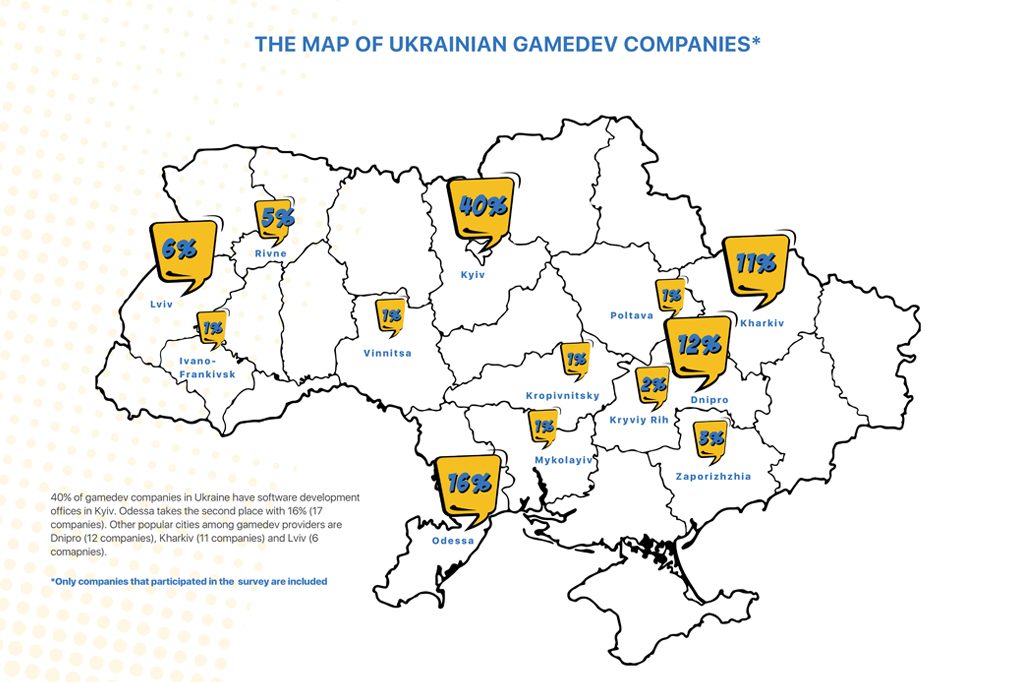 Another characteristic feature of the gaming industry in Ukraine is that one and the same company may be a multi-tasker –  provide IT consulting services, create one's own games, or suggest outsourcing / outstaffing services.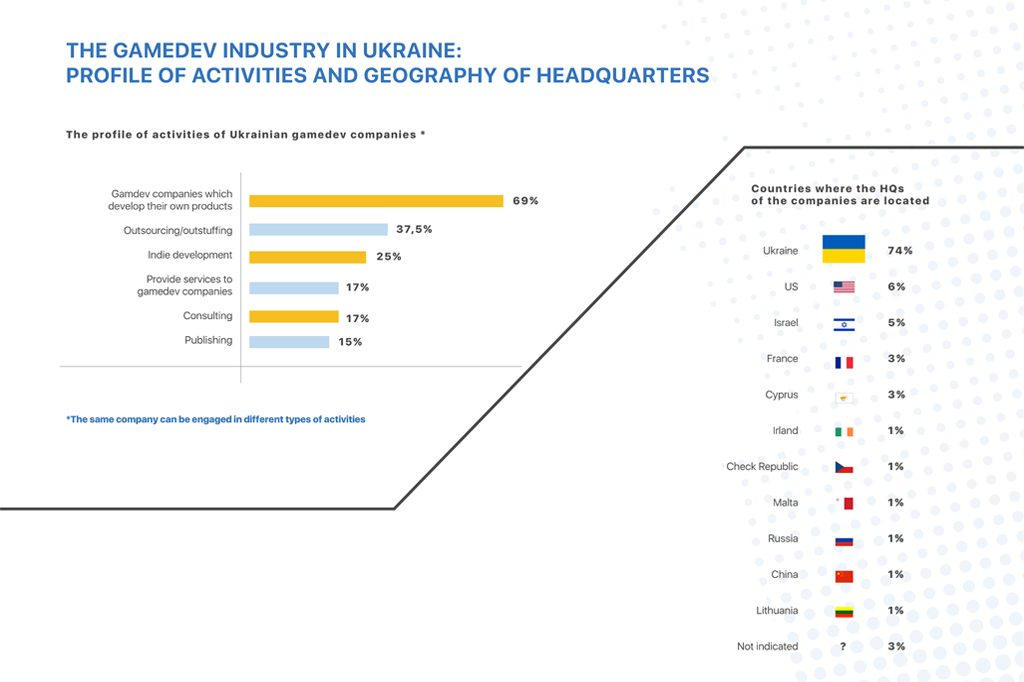 As the graph shows, the majority (69%) of the Ukrainian IT companies develop their own products, others create indie games (25%), deliver services for GameDev companies (17%) including game publishing (15%), and provide technology outsourcing services.  
Scope of the GameDev Expertise
The good news is Ukraine attracts overseas partners not only as a mature technology provider, but also as a booming creative hub. Ukrainian engineers are keen on interesting tech challenges and modern technologies, which is why most of them choose to develop games instead of legacy code.  
Most of the games are designed for Android (82%) and iOS (79%) platforms, PC/Mac (78%) and web browsers (41%) as well as trending VR/AR technologies (31%). It is another proof that the global gaming industry is going mobile with a record-breaking 51% revenue to be reached by the end of 2018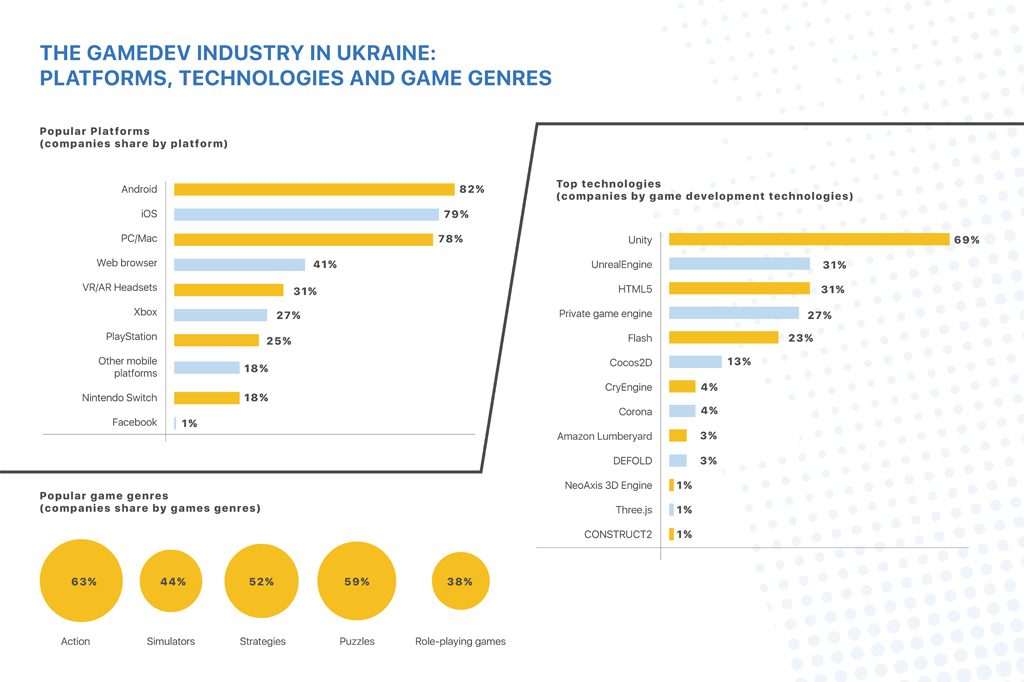 The game genres developed by the surveyed companies vary from action games (63%) to simulators (44%) and role play games (38%). The technologies used for them also differ from project to project. Thus, 69% of the game developers code in Unity, UnrealEngine and HTML5 make up 31%, while the least popular technologies are NeoAxis 3D Engine (1%), Three.js (1%), and CONSTRUCT2 (1%). 
Portfolios of the Ukrainian Game Makers
Gaming businesses in Ukraine range in size and type: 21 surveyed companies have 2-5 games in their portfolios, 18 companies have already created more than 10 games, whereas others have less than 5-10 or do not develop their own games.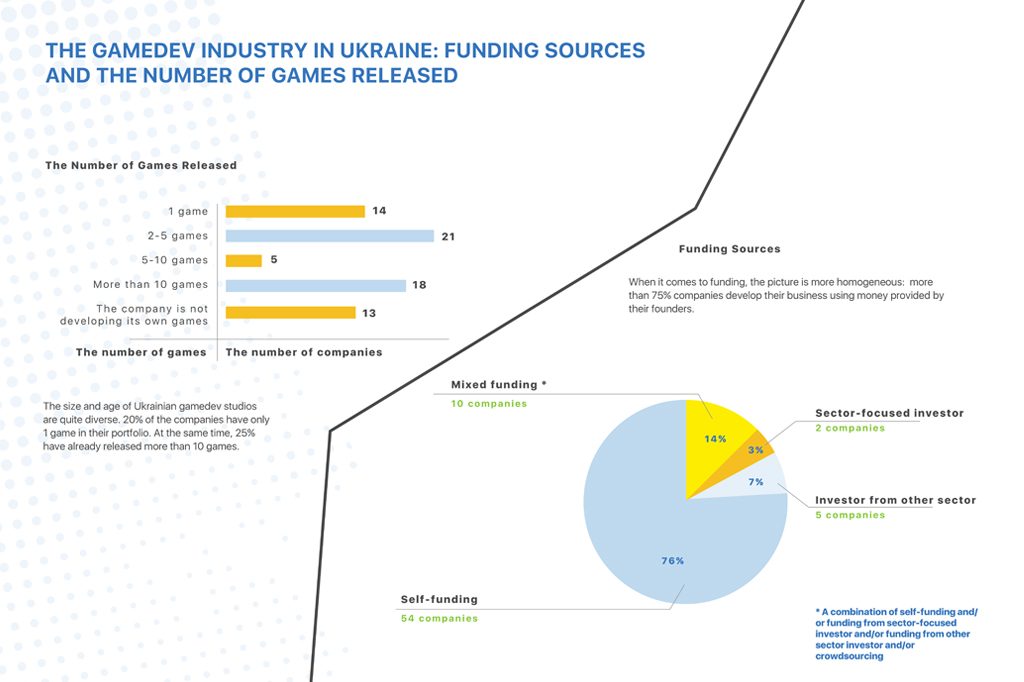 Funding sources for the gaming projects vary a lot too. For 76% it is self-funding, 14% get financial support from the combination of sector-focused investment and self-funding, others – 7% and 3% rely on investments taken from sectors other than gaming and from the sector-focused investors alone. 
Making Further Steps
It was the first GameDev survey ever conducted in Ukraine and Unit.City is going to keep on networking with the industry players to promote Ukrainians and attract investors from across the globe. Launching educational programs, arranging game meetups and conferences are already included into the action plan. Stay tuned to read more industry updates on time!