Hyper-casual games are light-weight apps with plain mechanics. They offer instant entertainment and simplicity while making gameplay addictive and engaging. Hence, ad-supported monetization gives high revenues, and this type of game is in increasing demand on the market.
As it was reported by Omer Kaplan, co-founder of ironSource (an advertising technology company), since January 2020, hyper-casual games have 17.6 million of daily installs, which is 12.5% of total downloads. Moreover, in the ironSource blog, it's calculated that hyper-casual players watch the ads 2x more than other gaming categories, and that is a clue to hyper-casual's popularity in the market (they can be highly monetized).
Let's speak about their main features, mechanics, ways of monetization, top hyper-casual downloads and market trends to learn how this field of game development outsourcing can lead to high revenues via boosting ad-supported monetization.
What Are Hyper-Casual Games?
Hyper-casual is considered to be a popular genre due to intuitive mechanics providing players with a pleasant pastime. It's of no importance how much time the user has: it's easy to play and no time needed to learn the rules. So, this entertainment is highly addictive.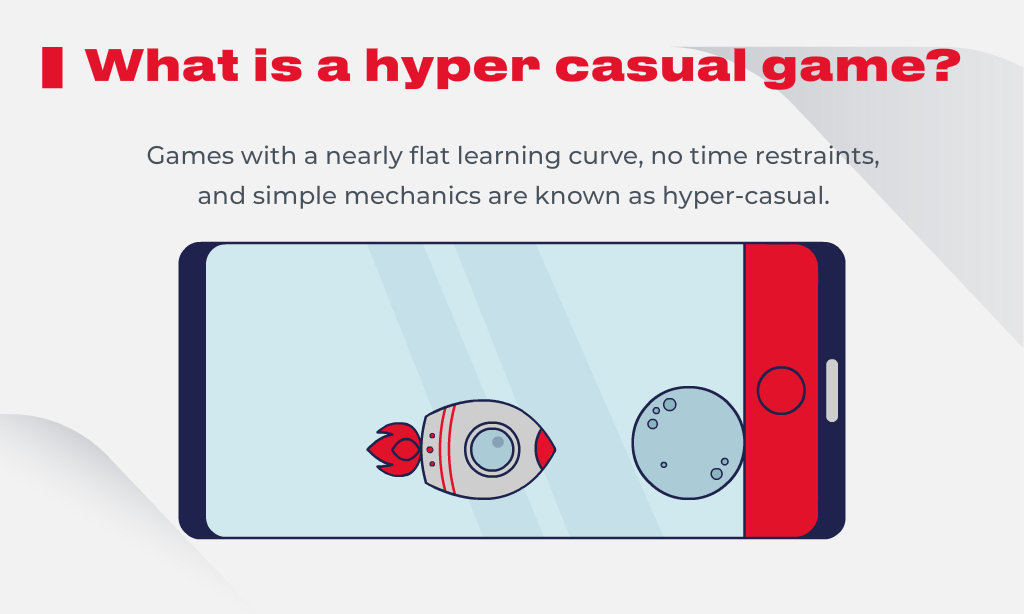 Alexandre Yazdi, CEO of Voodoo, a popular mobile apps publisher, described hyper-casual gaming in his interview as 'really focused on intense and interesting core fun'.
Some Historical Glimpses
Hyper-casuals are probably not so new as they seem to be. 70s arcades (coin-operated machines providing video gaming and placed in public places) was the prototype for these simple mechanics which have made mobile apps so popular now.
Space Travel (1969) and Pong (1972) were created meeting most of the hyper-casual criteria described above. And in 1975 Pong was released by Atari in a home-version. It was the very start of simple games availability for many home players.
Over the course of time hyper-casuals have gone viral, and in 2018 Voodoo reported 150 million active users every month, and 1.5 billion downloads from their portfolio. Simple and engaging fun captured the market and started generating serious revenue.
Hyper-casuals as mobile games were pioneered by Ketchapp, then kept growing by studios such as Voodoo, Gram or BitMango. And nowadays, there's a variety of companies on the market designing games from scratch. Innovecs is also ready to collaborate with your team either on game development or consulting in this area.
Hyper-Casual Games Mechanics
Most of the hyperactive games are developed exclusively for mobile hardware, and they can stick to specific types of game mechanics:
timing: game focuses on time constraints such as game stage duration or limited time to complete. Usually, they allow several attempts so as not to be too short and frustrating for the user because of quick fails;
agility: e.g. Pac-Man, escape ghosts and collect the dots. The main principle is acting fast;
puzzle: a user needs to change the shape to construct the bigger picture;
swerve: the main focus is to keep flying, driving or jumping to escape obstacles;
merge: an addictive way of playing through combining or swapping cells, rows, structures i.e. Connect 3 style games.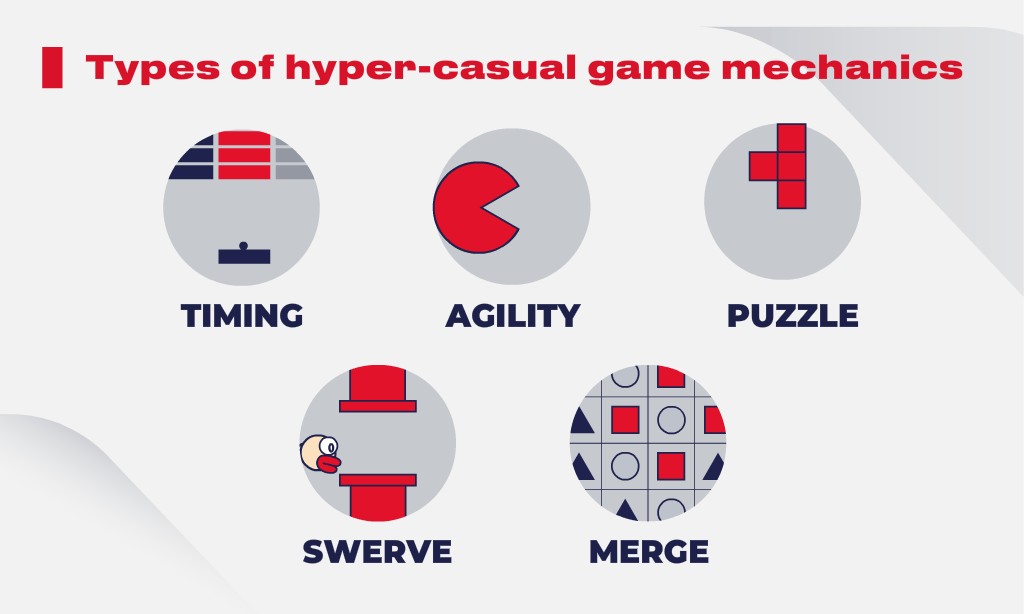 All of these mechanics have the same objective, which is to make users keep playing and investing resources. These are the very points of monetization: ways to get in-app profit, how to boost users' engagement, and what helps to support game popularity.
All these ideas are thought about by designers of these games each time they develop a new game: they start with a concept, choosing mechanics, and designing suitable art. Below, you can read Voodoo team insights about how to make a real market hit (they have more than 100 games, and many of them are tremendously popular).
Ways To Make A Game Hit: Success Insights
Voodoo team members share their experience and stress the fact they have never thought of hyper-casual game development, but more about great content they were excited to create.
For each game development, the Voodoo team follows the same stages: at first, they try to assess future product potential; some time later, after prototype design and development starts, the game is submitted on the App Store to research whether users love it; if they do not, the development process is canceled not to waste time and to stay focused on the project with greater potential.
"It's rare to see a great game. Publishers struggle to gain them. We first tried to obtain the talents and then train them on what we know. There's a serious stage you need to complete before you start getting hits."
Alexandre Yazdi, CEO of Voodoo
In the past, two years were spent on a quiz game, which hasn't succeeded. And, since that it's managed in such a way to focus only on the future hits. For every game published about 100 prototypes are produced, so Voodoo has designed more than 10,000 prototypes in preparation.
After establishing some successful guidelines, leading game companies comment that some of the games often outperform, and become 'unicorns'. The only issue challenge now is to learn the market trends, know more about future directions of the industry, and game monetization.
Hyper-Casual Games Monetization
The main objective of the developers concerning game construction is making users never reach 'Game over!' caption. In other words, the aim is to produce such entertainment, where playing experience is instant, continuous, snackable (divided into short stages), and fun.
It's much easier to monetize the game having described the above features. There are four basic monetization methods:
In-app purchases (it's selling additional options not available for free app players such as extra game stages, in-game currency or extended playtime). There's a segment of users, who are ready to purchase more than $2 during their lifetime;
Advertising (but it's worth remembering not to include too many popups for smoother user experience);
Cross-promotion (according to the statistics average users stop playing the game within three days after download, so it's high time to propose them one more they are likely to play further);
Premium app strategy (mobile game is not free, but it's always a challenge to consider whether users want to buy or they need to get a trial option).
Rewarded video can become an additional monetization tool. As an example, ironSource presents the following goal example: 40%+ engagement rate and four impressions per user per day they set as a good benchmark to aim for.
Main monetization challenge is finding the balance between user experience and profit-maximizing LTV (life-time value, which is money the user spent during his game playing period) and ARPU (average revenue per user).
Described strategies can be combined. And to gain efficient monetization performance it's critical to consider three hyper-casual game S's: it should be short, satisfying, and simple.
Hyper-Snackable Game Example As A Clue To Success
The game can have any mechanics (merge, swerve, agility, timing or puzzle), different monetization types can be applied. But it's always helpful to remember that 'Keep it entertaining, easy, and short' rule is the main one to lead the charts.
Let's have a look at Helix Jump, which is #1 in the App Store. What are the main characteristics of the game making it extremely popular? It's infinitely snackable: there's no need for much effort or commitment from the user. The ball is constantly jumping, and that makes it hard to stop in the middle of the game, so playing lasts long.
Snackability and high level of satisfaction are the basic characteristics able to increase potential LTV (lifetime value, which is equal to revenue from one user throughout his or her lifetime). Shorter levels also create opportunities to show more ads once the user completes the game stage or fails to progress.
The above-described features also enable in-app purchases as a possibility to remove ad features. And this became an additional monetization source. To conclude here are some more trends and 2020 predictions.
2020 Hyper-Casual Games Market Predictions
MobileFreeToPlay resource presents the following forecasting tips:
100 top charts will have one of five apps, which is hyper-casual one;
Ad monetization is getting smarter (AdTech should be built to present playable ads pleasant for the user as a joy time away from the main game);
Focus on the ad view and simplicity not to have expensive marketing further.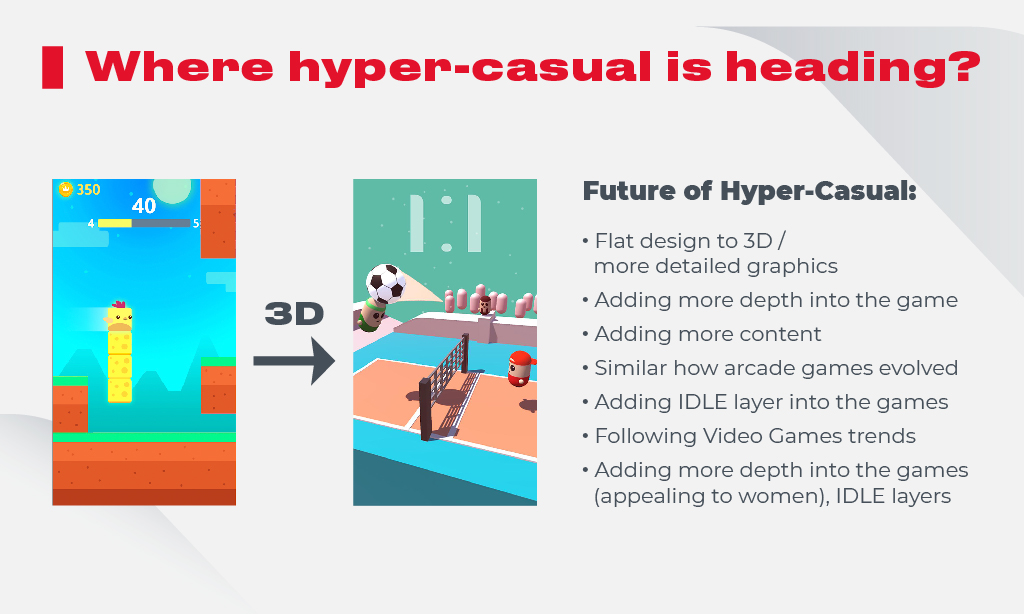 To create the game, gaining more and more players, development companies should be aware of its strong features to implement an outstanding idea: from prototype designing to quality assurance, from consulting and concept discussion to game performance analyses after its first App Store launch.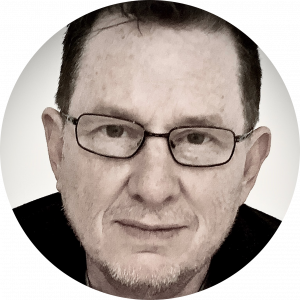 "If we speak about strong Innovecs expertise it's worth mentioning QA. Quality assurance for the games designed is focused on finding inconsistencies in the soft. Documenting, reporting, and reviewing the bugs are included into the process. So, you've got an engaging game with smooth user experience as a result," comments Doug Dyer, Innovecs VP of Gaming & Entertainment
If you want either to outsource trendy successful game development or provide a customer with the game designed from scratch we recommend considering the following modern trends:
snackability (product should be accessible in small portions: small size is worth focusing on. Essential characteristics are bit-sized gameplay, 15-45 level completion; up to 20 levels easy to play, simple progress grows);
'one finger' principle to rule the game (options to rule are single tap, tap & hold, swipe & move, swipe & tap);
satisfaction (do anything possible to keep players' attention: confetti as simple and festive completion celebration, power-ups as additional dynamics to game playing, destructions as the way to present the user power of control);
color contrast (it's for grabbing players' attention);
innovation (do what has never been done before – the main principle of Innovecs team collaboration).
Forbes in its game market analytical article proves the described trends, and names the Chinese game market as a 'prime place' to release new products. They also recommend focusing on 'compelling mechanics with seamless ad integration' to be competitive in the game market.
Hyper-Casual Games: Conclusion To Consider Game Development Outsourcing
For more insights of the industry we recommend either to install and experience any among popular downloads for January 2020 or follow informative Instagram account about hyper-casuals.
IT experts recommend learning market trends, then to decide on the future game concept and make a prototype to test it on the market. And, only after these stages it's reasonable to outsource long-term collaboration on mobile app development.
In a nutshell, when you are close to completing your own game, think about the following things:
what mechanics you choose;
which 'eye-catching' art you will use;
how you build user experience concept to make it short, satisfying, and simple;
game snackability (everything should be lightweight and brief: either game stages or rules);
how you provide the user with control power (extra game dynamics, power to destroy, and etc.);
what monetization strategy you apply (freemium, premium, in-app purchases, cross-promotion);
how many prototypes you need to succeed;
whether you are ready to stop game promotion if it seems to be not interesting for the users (strong decision-making after the first game launch on App Store).
The conclusion of the article can be as simple as hyper-casual games mechanics: plain concept, instant gaming fun, engaging entertainment, and several attempts not to fail in the very beginning lead to game popularity and more users' time spent playing. To outsource such kind of game development you are welcome to contact Innovecs' team.