The HBS Digital Initiative at Harvard Business School names Unity "a unicorn" enabling video game development and the VR/AR economy to grow at explosive rates. The Unity Gaming Report 2022 showed that the number of games made with Unity increased by 93% in 2021, and the number of new creators increased by 31%.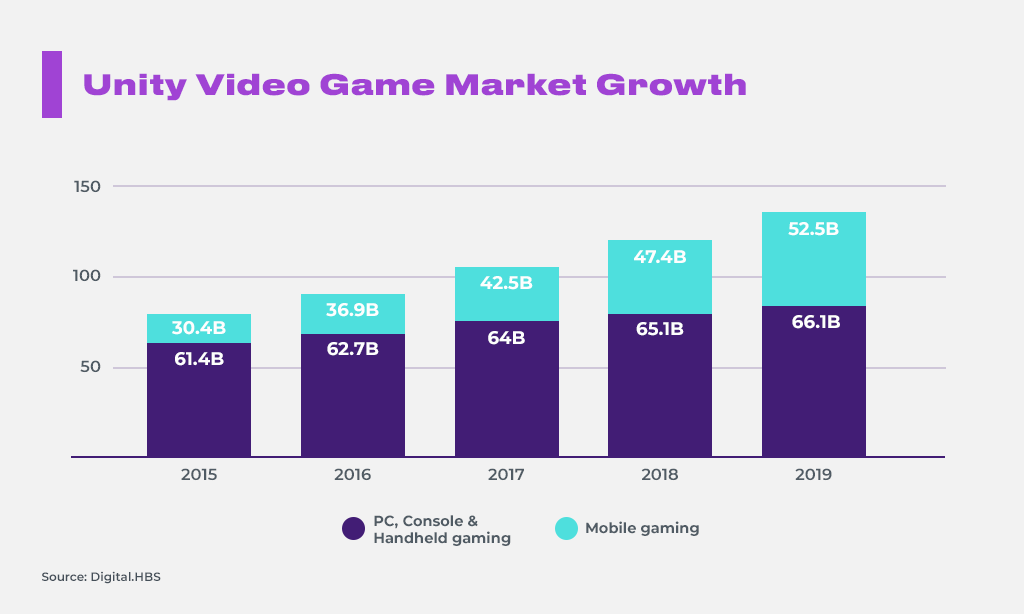 Forbes talked to Jessica Lindl, Unity's VP for Social Impact, to better understand how the Unity platform is inspiring game makers and programmers to create products that encourage social change. Jessica believes hiring skillful Unity game developers contributes not only to the company's revenue and project outcomes but it empowers brands' educational, cultural, and historical mission. She gave an example of 'The Changing Same', a tremendously powerful VR historical experience highlighting racial injustice. Unity believes game development platforms can, and will, change the world.
Moreover, Doug Dyer, former VP of Gaming and Entertainment at Innovecs, notes Unity is both a good option for starting out in the game development industry and the most popular engine driving cross-platform game evolution.
Hiring Unity Developers: the Data
Ain reports 41% of Ukrainian Unity game developers are middle and senior-level specialists nowadays. When preparing to hire a Unity developer, it's beneficial to analyze current statistics displaying salary rates of game developers. ZipRecruiter website calculates the average Unity developer salary in the US is $$98,437 as of November 2022. Qubit Labs reports an average $30-40,000 Unity developer salary in Ukraine, noting that it depends on the city and specialist level. The rates in the US are about twice as high as in Ukraine.
If you're interested in a more detailed salary picture, GameFromScratch Youtube channel has extraordinary video research of game dev salaries capturing data from the #GameDevPaidMe hashtag on Twitter. You can find personal salary examples of 3D animation developers, Unity developers having published 3 or more premium games and an Excel sheet of anonymous answers about annual rates and bonuses of North American game developers hired by well-known companies.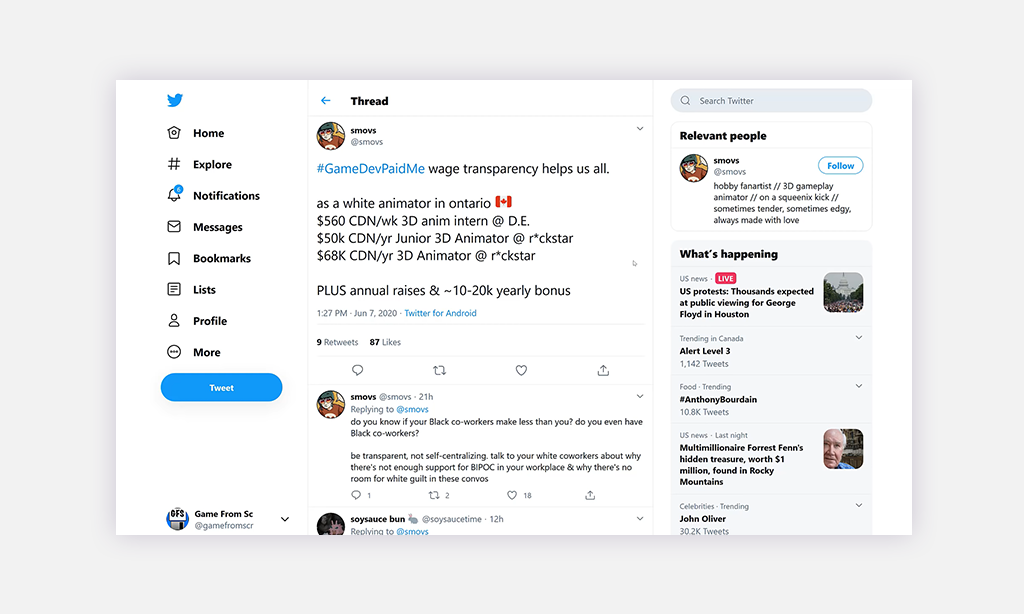 When you investigate Unity developer jobs statistics, it is easy to see that game developers in Ukraine are available at a reasonable price. The have a wide variety of skills, a creative mindset, and speak fluent English, which makes them competitive globally.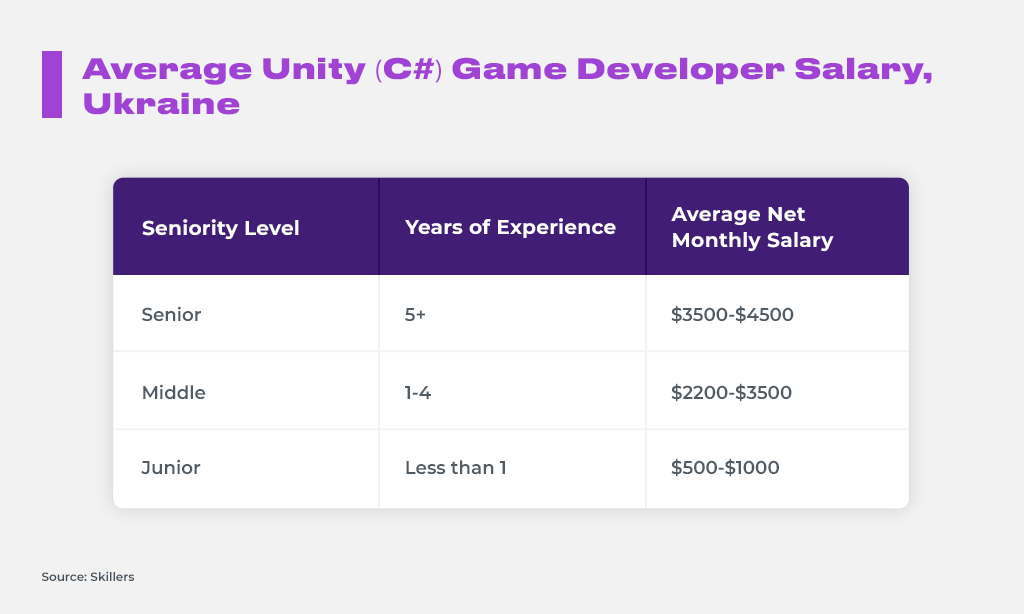 What Unity Developers of Tomorrow Are Expected to Propose
While Unity does not stop being one of the most demanded platforms for creative game companies and studios, it's important to know what facts prove its great potential and capacity in the future. Unity 3D blog shares the following facts:
94 of the top 100 game development studios choose Unity for their artwork;
Companies are constantly searching for Unity specialists to build the forecasted 5 billion Unity powered app downloads;
61% of developers worldwide prefer Unity;
11% of main competitors' users changed to Unity games due to recent engaging content updates.
Unity is doing its best to provide the developers of the future with "stable and reliable releases". With the newly arranged and updated tools, game devs have more opportunities for their artwork and gameplay. For example, many 2D animation and graphic improvements were done in March 2021, and worldbuilding options were updated. Unity devs are looking forward to getting renewed visual scripting package updates and texture import time optimizations. Also, gaining more convenient access to paid options will facilitate smooth and efficient utilization by the specialists.
In their 2022 Gaming Report, Unity said that "the number of games made on the Unity Platform increased by 93% in the last year." This incredibly useful engine isn't going anywhere.
What to expect from a Unity 3D developer specialist:
Perform things quickly and in an agile manner;
Reach one-click portability as Unity makes this option accessible;
Understand and use the entire Unity Asset Store;
Ability to build their own tools;
Utilize VR creative options;
Deal with the bad code practices.
Every Unity developer is expected to be acquainted with all aspects of platform solutions available. These tools enable intriguing gameplay, unique graphics, and a captivating player experience. With the ready-made, fully customizable solutions, it may seem like anyone can create a top-notch game with Unity. But developers disagree. Many say, "it's easy to learn Unity, but really hard to master its sophisticated features". A company hiring a Unity 3D developer is looking for a specialist, someone that is aware of game solutions from concept to commercialization and able to use real-time tools for unlimited creativity.
"We want to meet future players where they really are. And we expect the developer to use outstanding Unity tools to the fullest as well as the platform optimization options"
Brian Cho,
Head of Business Development, Riot Games
The core qualifications for Innovecs Unity developers include:
Keen interest in games and the game market;
Creative problem-solving skills;
Sharp eye for gameplay details;
2+ years of Unity engine experience;
Expertise in game iterations, debugging, and optimization.
Before hiring Unity developers in Ukraine, look through their portfolio, check expertise, style, and English proficiency, and ensure they are good fit for your project.
You can find trustworthy, expert IT companies on the market like Innovecs, we hire enthusiastic specialists that will enhance or build your game. To bring your game vision to life from script to screen, contact us.
Educating Unity Developers: Innovecs Innocamp
We've discussed that the main task of Unity 3D developers is to turn your concept into a captivating game using Unity engine tools and C# programming language. As a Unity 3D game development company, Innovecs knows this technology potential.
For example, we provide high-quality Innocamp training with an opportunity for further internship upon completion. During the Innocamp workshops, students have the possibility to master Junior level Unity programming skills, increase IT English, as well as boost needed soft skills.
This or any other training track can increase opportunities for developers hired at a prosperous game development company.
Conclusion
Unity 3D is an outstanding growing platform for game development. It delivers a variety of solutions for ideal gameplay, capturing visualization, and smooth game iterations. Many companies are seeking expert Unity 3D game developers to hire. They offer changing rates from $2000 monthly in Ukraine to $98000 annually in the US. Rates vary depending on the location, specialist's experience, and programming skills level.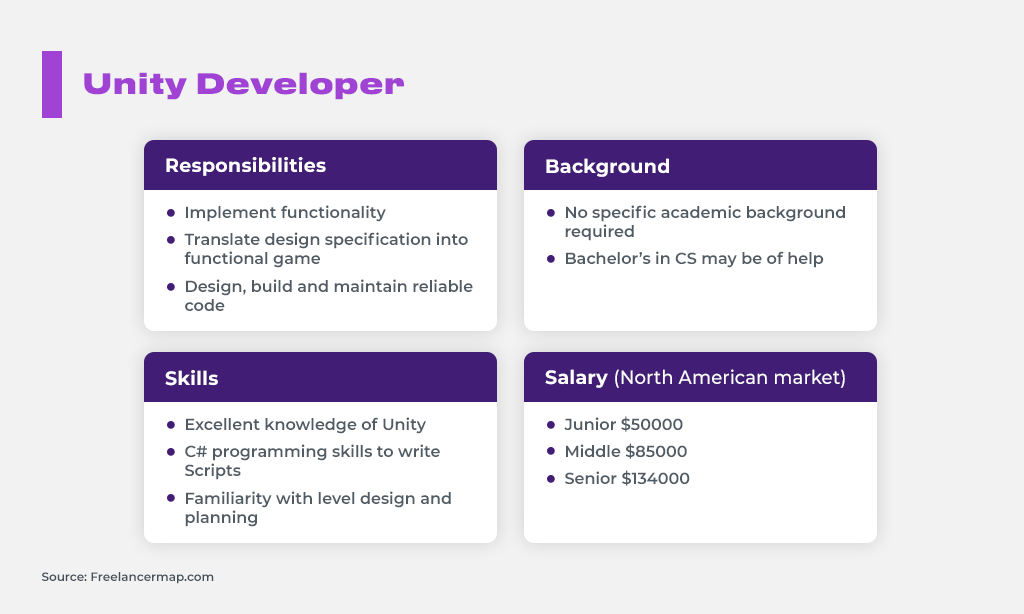 Many workshops and training programs are available to educate developers, like Innovecs Innocamp Unity Track.
We've outlined a portrait of Ukrainian Unity game developers available for hire on the market. A more detailed overall report on the characteristics, geographical spread around Ukraine, seniority levels, and salaries is available on Skillers recruiting agency's website. They conducted a survey in September 2020 to demonstrate the Ukrainian game development specialist market.