The HBS Digital Initiative at Harvard Business School names Unity "a unicorn" enabling video game development and VR/AR economy to grow throughout the previous years.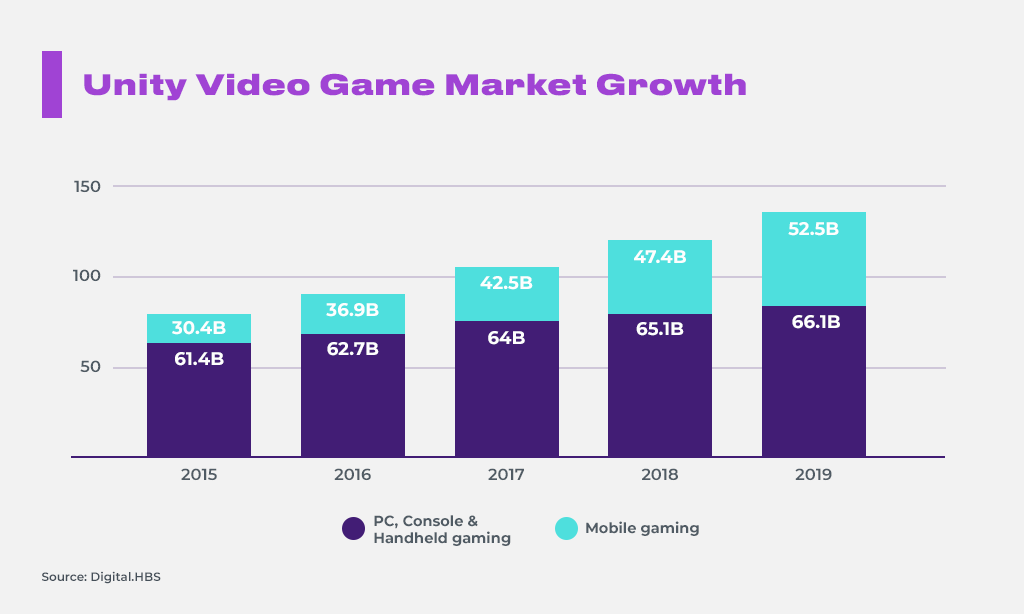 Forbes has talked to Jessica Lindl, Unity's VP for Social Impact, to catch more information on how the Unity platform brings innovations to boost the creativity of game makers and serve Unity 3D programmers for designing their best game pieces. Jessica believes hiring skillful Unity game developers contributes not only to the company's revenue and project outcomes but it empowers brands' educational, cultural, and historical mission. She gave an example of The Changing Same Unity game as a piece of tremendously powerful VR historical experience highlighting racial terror issues. To recap, Unity believes game development platforms can change the world.
Moreover, Doug Dyer, VP of Gaming and Entertainment at Innovecs, notes Unity is both a nice option to start in game development and the most popular engine empowering wonderful cross-platform games. Let's learn more about 2021 trends in hiring Unity developers, how these specialists can enhance the prosperity of your company in game making.
Hiring Unity Developers In Figures
Ain reports 41% of Ukrainian Unity game developers are middle and senior-level specialists nowadays. To address the issue of proper Unity developer choice it's worth looking up current statistics about salary rates of the game developers. ZipRecruiter website calculates the average Unity developer salary in the US is $98,214 as of March 2021. Whereas Work.ua website reports an average $14,400-$20,400 Unity developer salary in Ukraine noting that it depends on the city and specialist level. However, it's obvious that the rates in the US are about twice as high as in Ukraine.
8Bit game devs recruiting agency provides their own research of the salary data online and calculates Unity developer salary rates from 30-40K EUR to 80-90K EUR annually (the US market). They note the explosion of the global game-making market from $27 billion to $135 billion due to the critical increase of devices. On their website, every fact proves that Unity 3D game developer hire is an issue on demand.
Just for interest and managing an overall detailed salary picture you're welcome to look through sources of the informal statistics. Thus, for example, GameFromScratch Youtube channel places live extraordinary video research of game dev salaries capturing data from #GameDevPaidMe hashtag on Twitter. There one can find personal salary examples of 3D animation developers, Unity developers having published 3 and more premium games, Excel sheet of anonymous answers about annual rates and bonuses of the North American game developers hired by famous companies.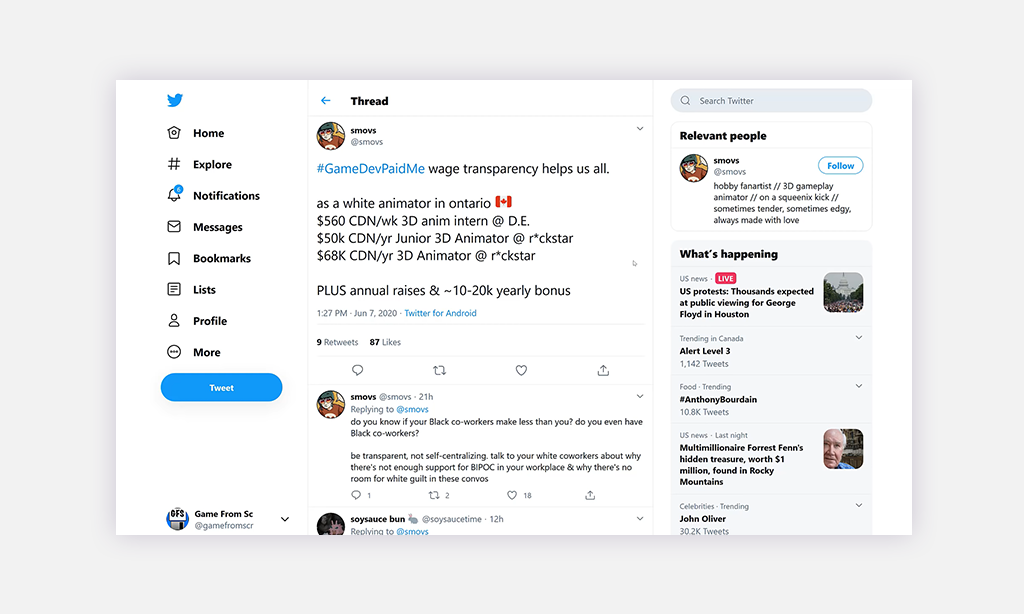 To sum up: Unity developer jobs statistics it's worth saying that in Ukraine game developers are available at a reasonable price, with a wide skills variety, creative mindset, fluent English, which makes them competitive globally.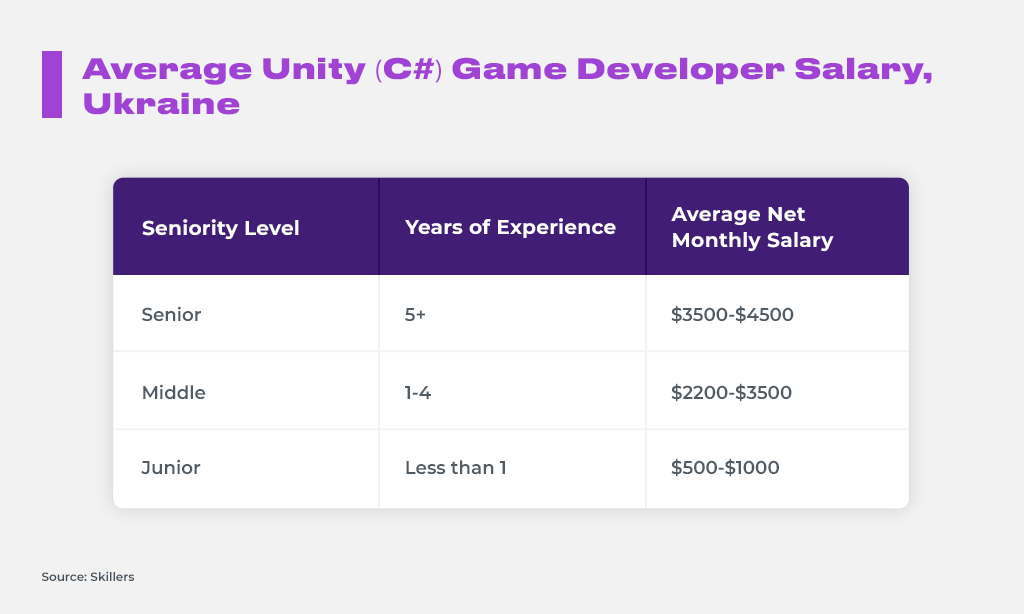 What Unity Developers Of Tomorrow Are Expected To Propose
While Unity does not stop being one of the most demanded platforms for creative game companies and studios, it's important to know what facts prove its great potential and capacity in the future. Unity 3D blog shares the following facts:
94 of the top 100 game development studios choose Unity engine for their artworks;
Companies are constantly searching for hiring Unity specialists to perform forecasted 5 billion downloads of the apps empowered by the Unity engine;
61% of the developers worldwide prefer Unity;
11% of main competitors' users changed for Unity games due to recent engaging content updates.
Unity is doing its best to provide the developers of the future with "stable and reliable releases". With the newly arranged and updated tools game devs will be able to perform greater in their artworks and gameplay. Thus, for example, a lot of 2D animation and graphic improvements were done in March 2021 as well as worldbuilding options were updated. Unity devs are looking forward not only to getting renewed visual scripting package updates or texture import time optimizations but to gaining more convenient access to paid options (updates for Unity Purchasing rather than buying options available from the Asset Store). So, the platform is getting closer and closer to smooth efficient utilization by the specialists.
In their Gaming Report company manifest the following:
"We expect 2021 to be the unprecedented year when Unity developers show huge things happen in gaming industry by compiling the possibilities of the platform"
So, a reasonable question is what companies expect from the Unity 3D developer specialist:
Perform things quickly and in an agile manner;
Reach one-click portability as Unity gives this option easily;
Use Unity Asset Store to the full (about 1.5 million developers purchase around 56,000 packages available);
Being able to build your own tools with Unity;
Utilize Unity VR creative options;
Deal with the bad code practices.
Every Unity developer is expected to be acquainted with all aspects of platform solutions available for usage now for making the gameplay more capturing, graphics more unique, and player's experience really extraordinary and involving. It can seem like the engine provides ready-made fully customizable solutions and one doesn't necessarily need deep expertise to apply them. But it's not true. Developers say today "it's easy to learn Unity, but really hard to master its sophisticated features". A company hiring a Unity 3D developer is striving to get a specialist, who is aware of game solutions from concept to commercialization, able to use real-time tools for unlimited creative options in VR/AR, Unity special offers to reach visual fidelity.
"We want to meet possible players where they really are. And we expect the developer to use outstanding Unity tools to the full as well as the platform optimization options"
Brian Cho,
Head of Business Development, Riot Games
For example, if we examine one of the successfully fulfilled Innovecs vacancies, we see the core demands for middle Unity developers. They include:
Constant interest in the games and game market;
Creative problem-solving skills;
Obtain a keen eye on gameplay details;
2 year and more Unity engine experience;
Expertise in game iterations, debugging, and optimization.
Before hiring Unity developers in Ukraine it's worth looking through their portfolio, checking expertise, proving enough IT English level. As well it's helpful to specify which relevant experience they have and assess all the mentioned options to measure the level of each.
Remember that you can find trustworthy expert IT companies on the market such as Innovecs who continue to hire specialists that can enhance or build your game. To bring your game vision to life from script to screen contact us.
Educate Unity Developers For Hire: Innovecs Innocamp Unity Training Track
We've already noted the fact that the main task of the Unity 3D developers is to turn the game concept into a game capturing players' attention. And the tools for this transmission are Unity engine and C# programming language. The technology is becoming more and more popular considering the CNBC report, where brand revenue growth was 39% in the fourth quarter of 2020.
Innovecs, being a Unity 3D game development company, is well aware of this technology potential. For example, we provided high-quality Innocamp training with the possibility of a further internship. During the Innocamp workshops, one had the possibility to master the Junior level of Unity programming skills, upgrade his or her IT English as well as pump up demanded soft skills.
This or any other training track enlarges your possibilities to be hired at a good rate in a prosperous game development company.
Conclusion
Unity 3D is an outstanding growing platform for game development. It delivers a number of solutions for perfect gameplay, capturing visualization, and smooth game iterations. That is why a lot of game-making companies are seeking expert Unity 3D game developers to hire. They propose changing rates from $2000 monthly in Ukraine to $98000 annually in the US. Rates vary depending on the location, specialist's experience, and programming skills level.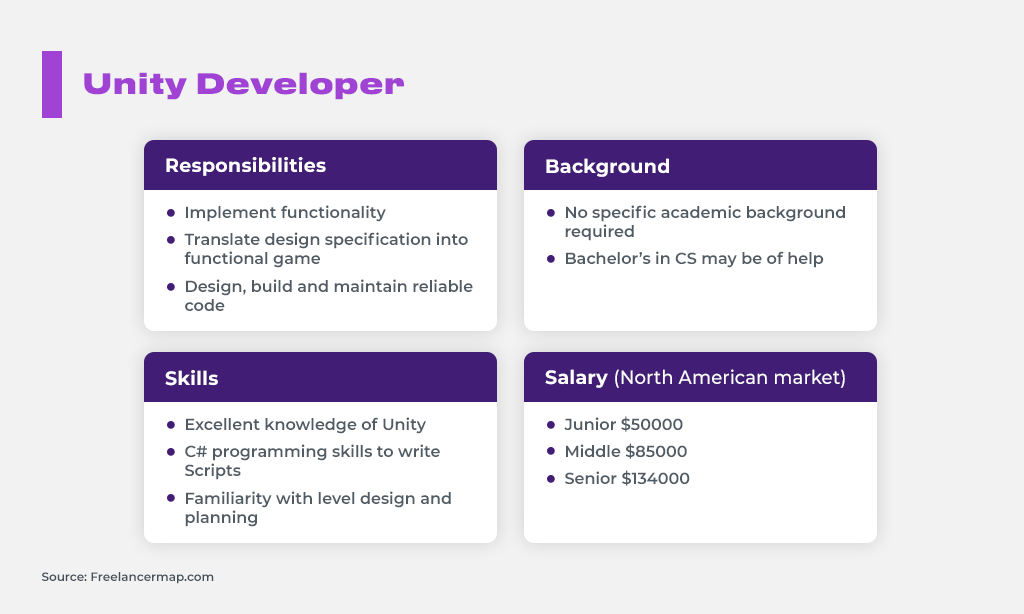 A number of workshops and training programs are available to perform greater in-game creations such as Innovecs Innocamp Unity Track. It provided 60 hours of e-training and the possibility of the internship for the best ones.
We've outlined the portrait of Ukrainian Unity game dev available for hire on the market. A more detailed overall report on the characteristics, geographical spread around Ukraine, seniority levels, and salaries is available on Skillers recruiting agency's website. They conducted the survey in September 2020, to depict the whole market of Ukrainian game development specialists.