Some seem to think so. Yet, truth be told: I have been speaking to around 60 of game software developers during the Innovecs Gamescom visit. And none of them feel like that. Of course, banks are hesitant to invest in intellectual property that might (or might not) be a top sale. So the only resort is seeking a good publisher and support for a new, fascinating and stunning game. I attentively listened to what a head of payment and fraud management in a multi-million gaming enterprise had to say: Seeing the games they work on as a portfolio, they noticed that after having a hit ratio of one in three, it slowly turned to one in ten – a moment, when they had to turn around and remedy a lot of decisions that had taken a wrong turn, also reducing the lead-time for any game to generate traction to only 3 months.
This is where the hardest pressure comes in: the time-crunch. When talking with the game developers and managers of small and large gaming companies, the lack of time and hard deadlines are the most pressing issue. Reward and returns are generally seen as okayish. In fact, a game development outsourcing companies like Innovecs, that can relieve a bit of the stressfulness by taking pressure on the developers away and help delivering in time and wit a good margin to the budget planned are received with a warm welcome. This also remedies another grief: Rewards and returns do not wander off into other countries with higher rewards for parking intellectual properties in their development-locations. Canada offers strong tax-reliefs for gaming companies relocating there. Ubisoft has opened another Swedish studio in Stockholm, headed by P. Bach, ex EA Games. The company is a huge one: 1.4 Billion annual revenues and a world-wide network of offices and studios belong to Ubisoft.
Gaming is coming out as a major business sector
This year, even German chancellor Angela Merkel took some time to visit selected booths. German SME are strong in developing great games, and profitability is good and even increasing. The market in Germany has been growing around 6% year on year and in a country with 81 Million inhabitants counting 34,1 Million gamers is not too bad a figure. Expenditures for Gaming Software in Germany alone grew from 1.99 to 2.13 Billion € between 2015 and 2016 and just in the first half year, the German market for games on tablets, computers, consoles and handhelds grew by 11% – no wonder that Mrs. Merkel found time during the elections to travel to Cologne. In fact, there is no medium whatsoever that showed such a growth in the last years as the gaming industry. Even the scientific parliamentary service (WPD, Wissenschaftlicher Parlamentarischer Dienst) working on behalf of the German parliament has started investigating topics such as eSports. The debate, whether eSports should be part of the Olympic Games is raging.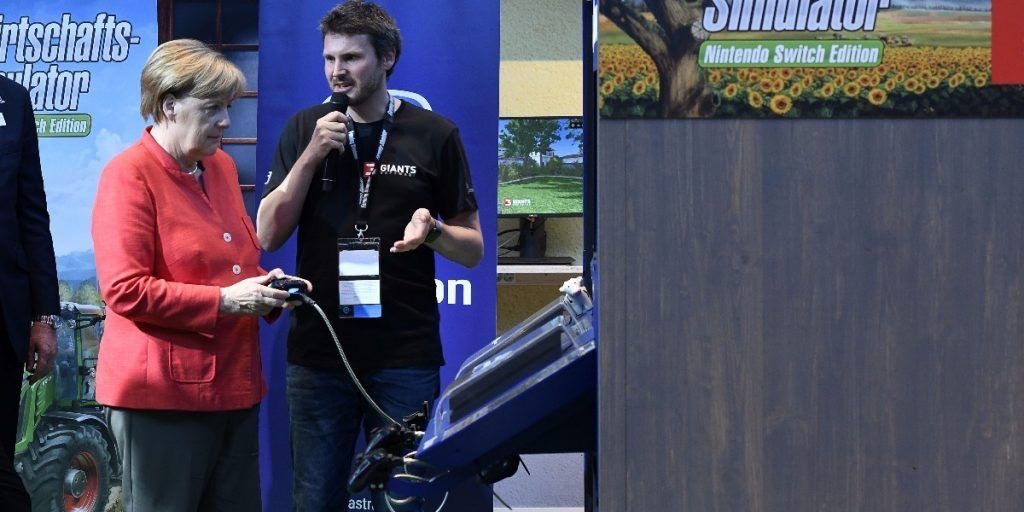 So it does not come as a surprise that the event in the Cologne exhibition halls was brimming with exhibitors, trade-show visitors and of course, gamers.
Even more astonishing: genders are equally hot for gaming, around 47% of gamers are female, with 53% being male. Social class does not really make a big difference either: The degree does not impact at all on the likelihood to play. What has massively changed, are the ways money is spent. One-time purchases are on a downward slope, even more hybrid toys have lost attraction (a two-digit decline). Instead revenues of subscriptions are increasing and so are the microtransaction volumes. But the most astonishing jump can be seen in expenses for membership in online networks: +48% in just one year. Nintendo will switch off their online-service Miiverse and gamers will then have Nintendo Switch starting in 2018. In the break, gamers can stream their PS4 game live to their monitors, Sony launched PS Now during Gamescom 2017. The offers are a bit scarce, though. So gamers may find pleasure in playing the new "The Evil Within 2", giving players much more freedom in taking decisions. Yet, they will need at least basic information on the previous version which was published in 2014. Bethesda will publish the sequel in October for PC; Xbox and Playstation.
Some highlights on new game developments
Bethesda has spent a lot of money on pushing their Wolfenstein II (The new Colossus) by studio Machinegames in Uppsala. As a player, your task is to rid America from the regime in the role of B.J Blazkowicz, unite the people and eradicate all regime soldiers.
Warhorse has a new offer in their portfolio that looks intriguing like a phantasy role-players delight, but it actually sticks to some fairly realistic medieval history of Bohemia.
Anno 1800 offers an insight into industrial revolution (well, that was industrial revolution number 1 – we are currently looking at number 4.0 if the sages are right) sending players back into the nineteenth century. Planners are sent back into a world that starts out with underlining the positive aspects of olden times, but ample room is given to the conflicts of society. The game will not be on the market before the end of 2018, though, but the studio wishes to work closely with the community to finalize the game.
Afficionados of strategy games were thrilled by a look at Warhammer 2 by British developer The Creative Assembly . An incredible explosion of graphical elements adorn the fund for PC strategists. The first part was already a stunner, but the second part is again an excellent piece of work, with bigger maps, more enemies and a great mix of real-time and strategy.
Bungies success goes into the sequel as well: Destiny 2 will definitely be a top-seller. Hey, the previous version is already 3 years on the market!
Microsofts gaming business has reached a new high with 9 Billion US$, with revenues increasing by 3% just in the last quarter. Gaming is obviously breaking out of the corner of just being a pastime, to being a massive growth motor for the IT-industry. Azure as a gaming platform will get more traction in the coming months.
One of the aspects that influence the current trends is the gamification impact. Gamification is seen in a lot of unrelated areas today, society changes processes, services, goods and marketing them are under strong impact to change according to the principles of gamification. The games sector of the industry has increasingly changed business processes like how companies interact with each other, how decisions are being taken and how remuneration is dealt out. Gamification increases the speed of processes leading to digitalization and acts like a society change agent. Short cycles, quick progress, a good amount of entertainment mixed into the melange of business decisions and technologies that allow instant gratification are some of the elements which we see now trickling into non-games-related areas. Have a look at kr3m to know more.
One thing that I found astonishing during Gamescom 2017 was the love for ancient technology and how intensively these are being consumed. There were loads of actors in a market that should technically be dead: A long line of exited youth was lined up behind an enormous console using laser displays to play – Pong and Arcade games! Up until now, I thought the lust of playing one of the 2D historic strategic battle games was an individual oddity, but as a matter of fact, this is a sizable part of the market. Playing "Panzer General" (1994) on an unconnected XP PC – can that be taken seriously? Yes, indeed, it can.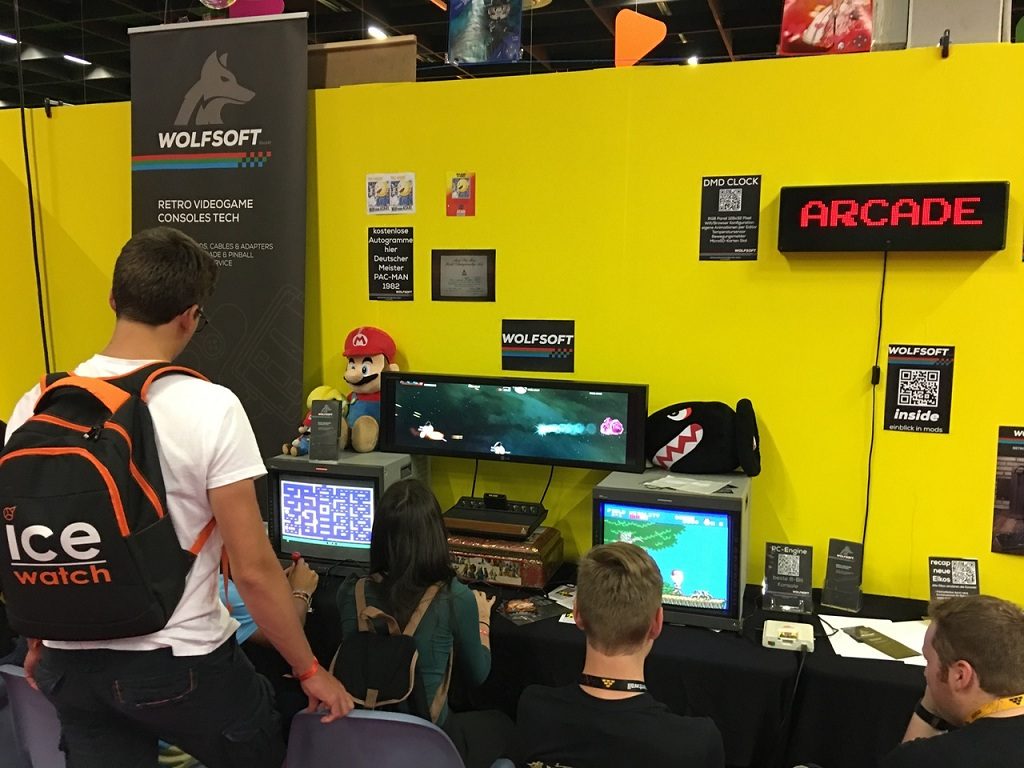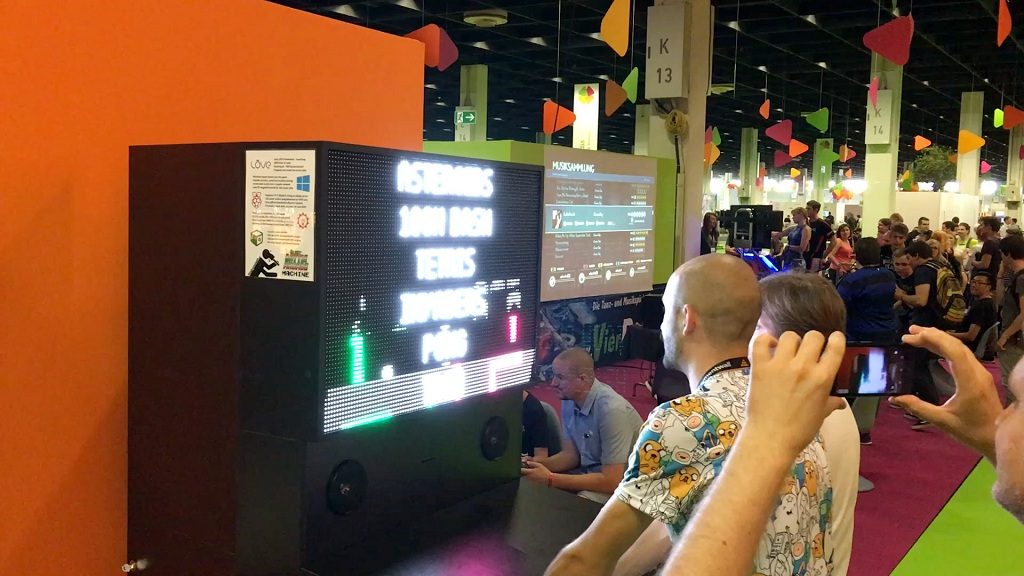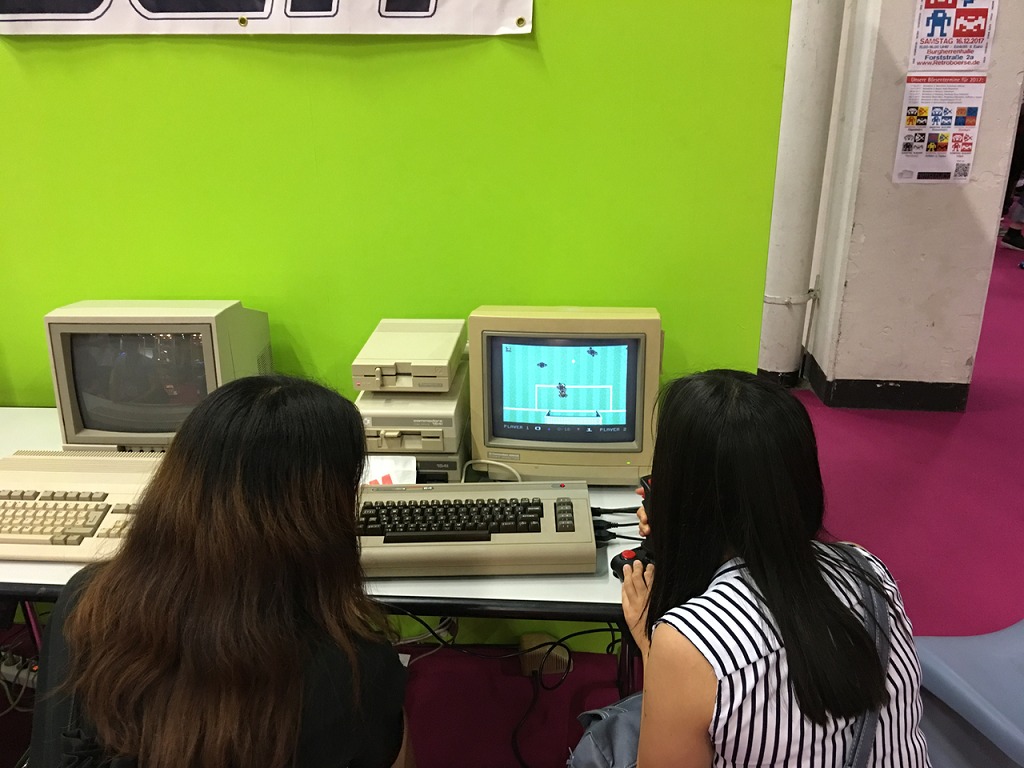 Publishers like Limited Run see their limited editions of Indie games sold out within days only. Of course, costs for digital publishing are much lower than for producing a disk, packaging, and executing fulfillment processes. Yet, one cannot ignore how even young people were flocking to what could only be seen as a gaming museum, comprising of old Macs with floppy disks, huge workstations with small CRT–displays and the fun the young players had working the games of the 90s.
Looking at smaller innovative studios, for example, leads me to Crazymonkeystudio from Belgium. Their game is pure bliss for Belgian comic-strip aficionados. Their game will sport all the brilliant graphical features of Belgian comic-strips, and will sport them in a 2D Egoshooter that will definitely be a stunner.
Many cool smaller studios have awesome, fascinating and creative ideas: One thing I found incredibly cool was in a format that seemed to be fallen out of time: Black screen, text as in a comic-strip, and sporting advanced interrogation techniques to determine suspects levels of involvements in criminal activities. Aptly named "Interrogation", this game is unlike the others. Very recommended to keep in mind.
Mobile Gaming and the Smartphone vendors
SK Gaming, Ubisoft and Gameloft are just some of the names that were represented in the mobile gaming hall 10.1, with the notable support by the top-selling smartphone vendors being in their back. As it seems, the mobile market has sucked up support from companies like Samsung, Huawei (Honor), and their competitors. Especially Honor is the brand that tries to dominate the mobile gaming sector with phones that satisfy a players requirements. Even the community Honor has is a strong factor in getting brand awareness and generating followers.
The odd one out
There are quite a number of activities during Gamescom 2017 which are gathered around the hard-core gaming booths and discussions. Some may have potential to give a new twist to the industry, even.
Monster Hunter games are a genre that sells big – in Japan. Not a lot of titles have managed to even arrive in Europe, which should change with Monster Hunter World which players could sample for the first time in Gamescom.
How about a card-board game? I hear you saying "how very 20th century!" – but, don't be fooled. Check out Battleshade. If you own a 3D-printer (or can lay hands on one), you may create your own set of characters, print them out and play with others using NFC-technology as the trigger for your fighting spree. This is a great combination of technology, role-play and beauty.
Then there is Simyball. Gaming for most of us means relaxation by excitation. Great graphics, lots of tension, puzzles to solve, enemies to fight. Meditation could not be farther from gaming, right? Wrong! With the relaxed mind of an ancient Japanese bow-shooter, you are more successful, the more inner calm you generate (and yes, you can call this meditation, if you will). The small ball contains sensors for heart-palpitations, temperature and other elements that signal relaxation or stress. The game on the monitor gets better with deeper concentration and relaxation. On Kickstarter soon, make sure to have a look.
Service providers like hugely successful Secure Trading or Paymentwall (logo-sponsor of Gamescom), taking care of the peculiarities of the gaming worlds financial side with all its risks and difficulties, fraud prevention and detection included lead a relatively quiet life at the borders of Gamescom. Yet, without them, nothing would work.
The odd one out are developments that won't fit anywhere else but still manage to fascinate. For one, Swiss/French artist Mélodie Mousset. Creating an award winning artistic experience with a stunning set of VR elements is fun – and doesn't come even close to what hard-core gamers (like her sister) would qualify as a game. But one finds oneself immersed in a world of wonders when entering hanahana-world. Can't explain why it is so addictive. But it won the WVRF17 prize for best interactivity!
And last, not least, the people bringing speed to the game. No, not the hardware vendors, but those that do improve the loading times of games and in the future allow video streaming in datacenter-parks full of the most expensive GPUs available. Yes, the big ones have tried and failed, but that doesn't mean it's impossible, is it? Gorillabox have started with the G-loader, that accelerates game-downloads immensely, but their next step is radical and we should watch the space.
Trends to watch
Summarizing the impressions from Gamescom, after getting the hoarse throat back to normal, these are the take-outs in brief:
Gamers tend to game while engaging socially with others, rather than alone
around 25% of gamers can imagine joining an eGaming club
VR is definitely the trend for game outsourcing companies to follow in 2017
in spite of the huge growth of global networks and publishers, 60-70% of players love their games on physical media
Watch the Micrsoft space. Azure could get a huge boost from gaming.