A recent publication from SpringerLink takes an in-depth look at the shift from the 'Games as a Product' model to 'Games as a Service'. While some players may not like the new business model, there's no denying that it's become the preferred method for studios. From AAA games to casino and hyper-casual, everyone is jumping on the GaaS train.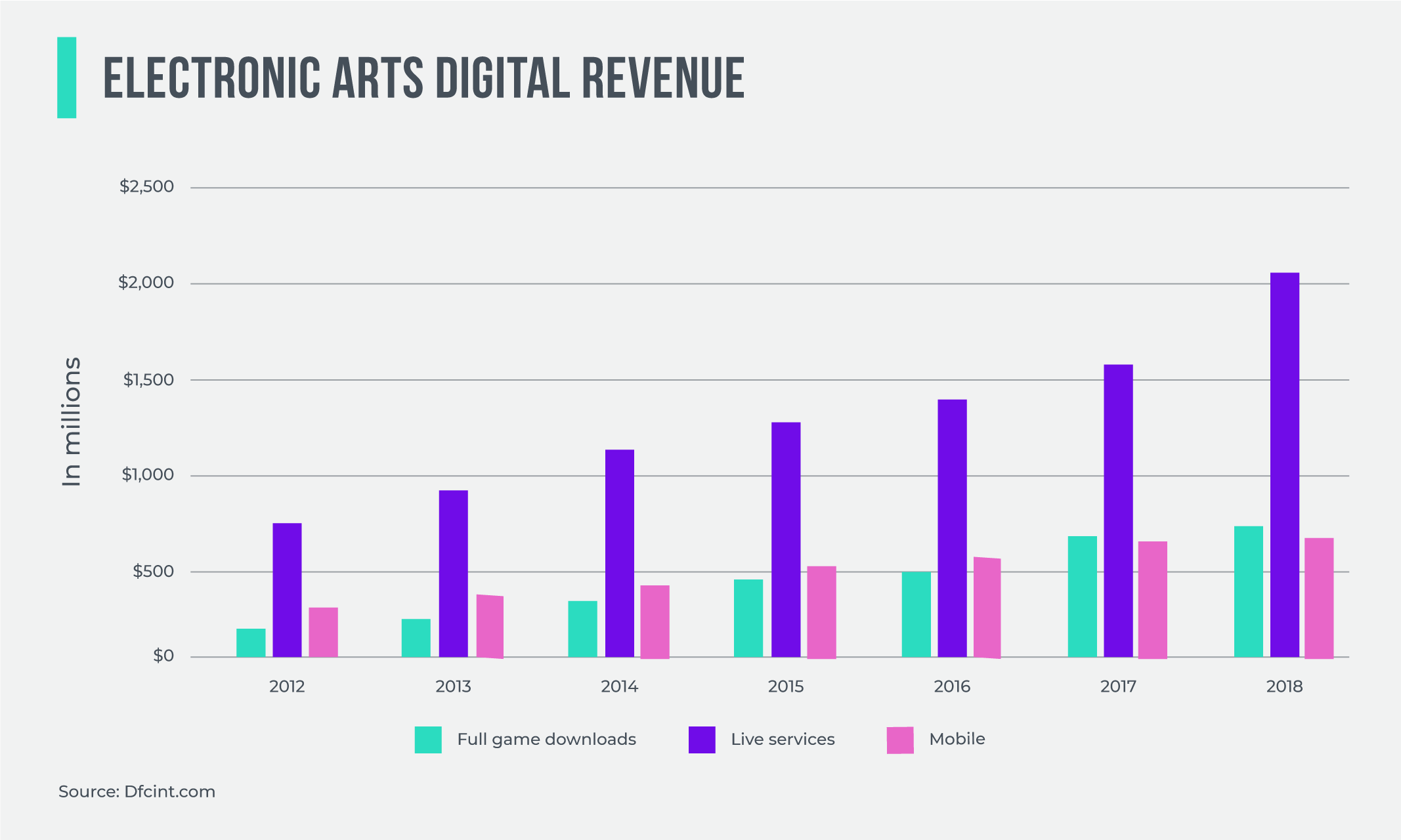 This has come with a shift in perspective from the designers' point of view; they now aim to cultivate a personal experience for users that encourages a sense of connection and loyalty to the game. With the advent of 5G and cloud services, there seems to be no limit to the creativity and innovation allowed.
What Is The "Games As A Service" Model?
Previously, players would buy a game and complete it in days, weeks, or months. After 'beating the game', you could repeat it or get rid of it. The advent of the SaaS (software as a service) business model has expanded the use of cloud gaming and led to a dramatic shift in gamers' habits. Online games have permitted players to play anytime and anywhere.
Cloud games also spurred market growth in other ways. While earlier publishers and developers created a sequence of games to make profits, now the GaaS model allows them to update the game with downloadable content (DLC) on the go and deliver these DLCs to players almost immediately. GaaS games have quickly replaced the traditional business model of selling video games for a fixed price.
GaaS involves delivering video games to customers via a regular revenue-generating model. Publishers sell the updates of the title and engage in ad monetization or in-app purchasing, instead of developing the next episode of the game. GaaS products are mostly free-to-play and gamer-centric.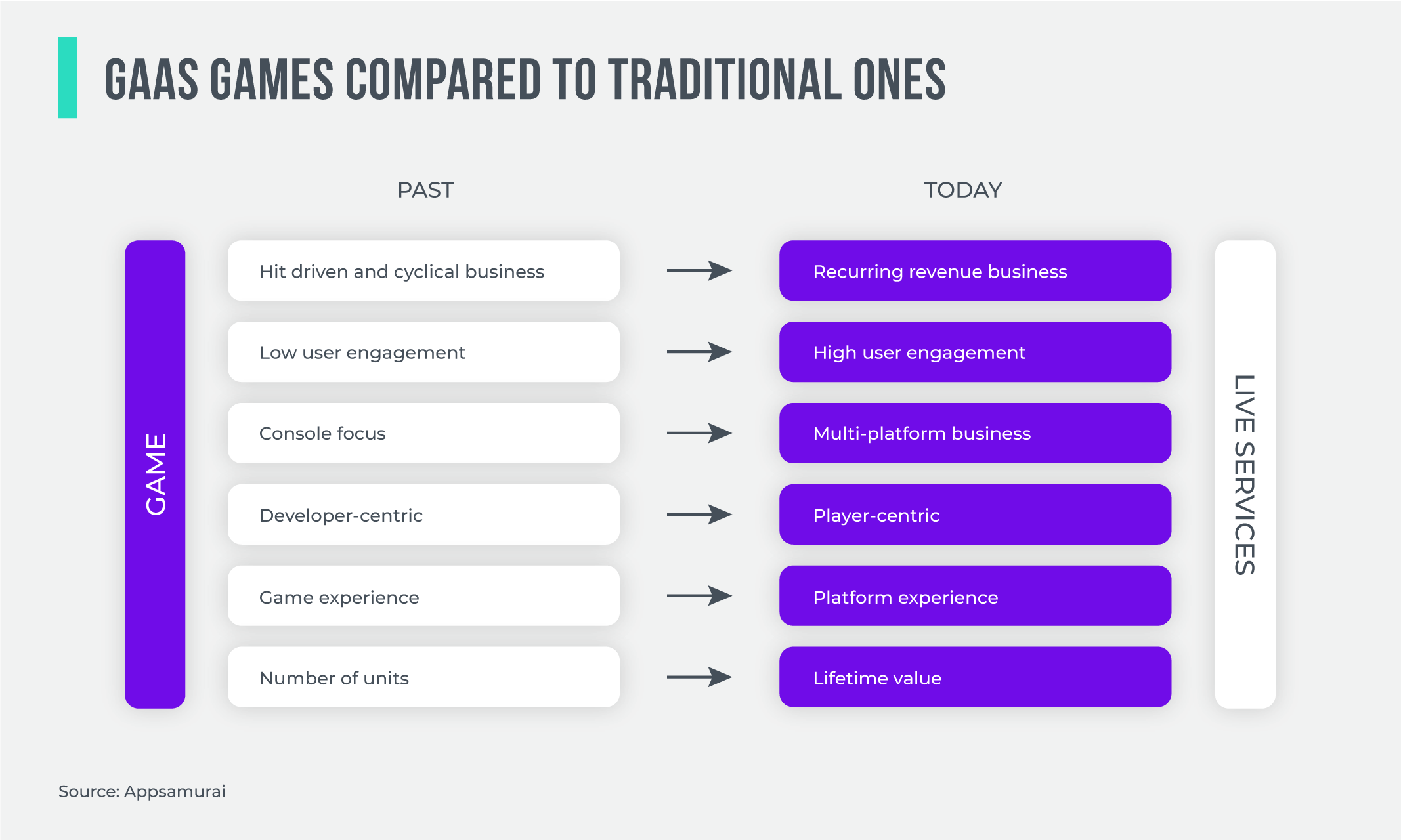 GaaS Monetization Types
Several types of monetization apply to the GaaS business model. Some of them can be combined to work more efficiently. Most GaaS companies use CRM systems to target users, analyze actions, and reshape the monetization method, if necessary. However, another vital CRM function is to process and validate all payments received through the sources described below.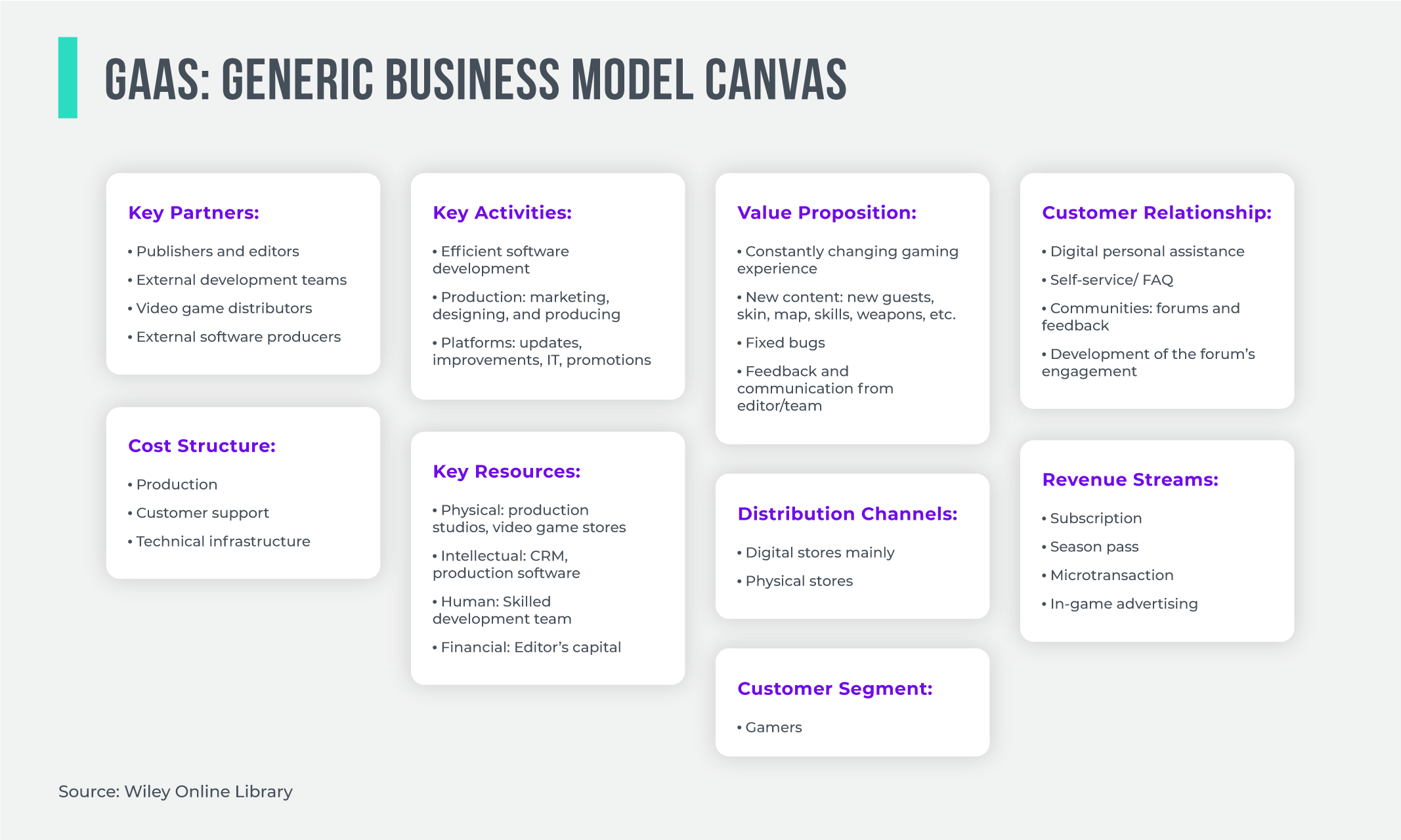 In-App Purchases
Gaming companies release games for free, but they make money by selling content within the game. Publishers offer gamers the ability to enhance their experience with paid additional features. This way, users remain loyal and involved in the gameplay. SensorTower predicts that consumer spending on premium apps, in-app purchases, and subscriptions will reach $270 billion annually by 2025.
With in-app purchases, players are given the opportunity to omit part of the game or advance by purchasing new features. Often, gamers can save the time it may take to get the desired promotion, upgrade character stats, or to grind (repeat user's actions in the game to achieve a specific goal).
Instead, gamers buy what they want through microtransactions and keep playing. However, developers should carefully consider the timing of micropayment processing. If the process takes too long, the game may be paused, leading to confusion or boredom. This, in turn, can lead to an unpleasant gaming experience, loss of user loyalty, and, as a result, loss of income.
In-Game Advertising
With the increase of advertising inside games, developers no longer want to earn their revenues solely by using a traditional, pay-to-play, or P2P business model. Moreover, players don't seem to mind in-game ads. The Ipson study shows that more than half (70%) of all users can recollect the ad they saw during app usage. In addition, 40% of respondents surveyed considered the ad as 'enjoyable to watch'.
These figures drive the adoption of this monetization method, but developers should pay attention to the UX and not overwhelm players with too many ads. Studies also show that ad context matters; memorability increases when ads 'align with and match the surrounding content based on vertical'.
Subscription
Some world-renowned subscription-based titles are Dragon Quest X by Square Enix, World of Warcraft by Activision Blizzard, or Wizard101 by Kings Isle Entertainment. This business model involves paying a recurring price to gain full access to a game.
The subscription services aim to increase player engagement. Nevertheless, such titles can also contain paid content not included in the fixed recurring price.
Seasonal Digital Pass
This form of monetization involves purchasing a season pass that enables users to access multiple DLCs and add-ons. Rather than paying for each DLC individually, players can pay in advance for upgrades throughout the year. Season pass holders can get discounts on new downloadable content and exclusive features. This is another efficient way to retain and engage users.
Loot Boxes
In recent years, loot boxes have become a popular in-game monetization type, a market that is valued at US $18.9 bn in 2022.
Loot boxes typically contain randomized virtual treasures, which can be redeemed after a player purchases them. The items from these virtual crates can significantly contribute to the user's achievement during gameplay. They can obtain new skins, accessories, and more elements to customize a character or make it more powerful. Also, loot boxes can be offered as a reward for players who achieved the next level or as a promotion provided by the publisher.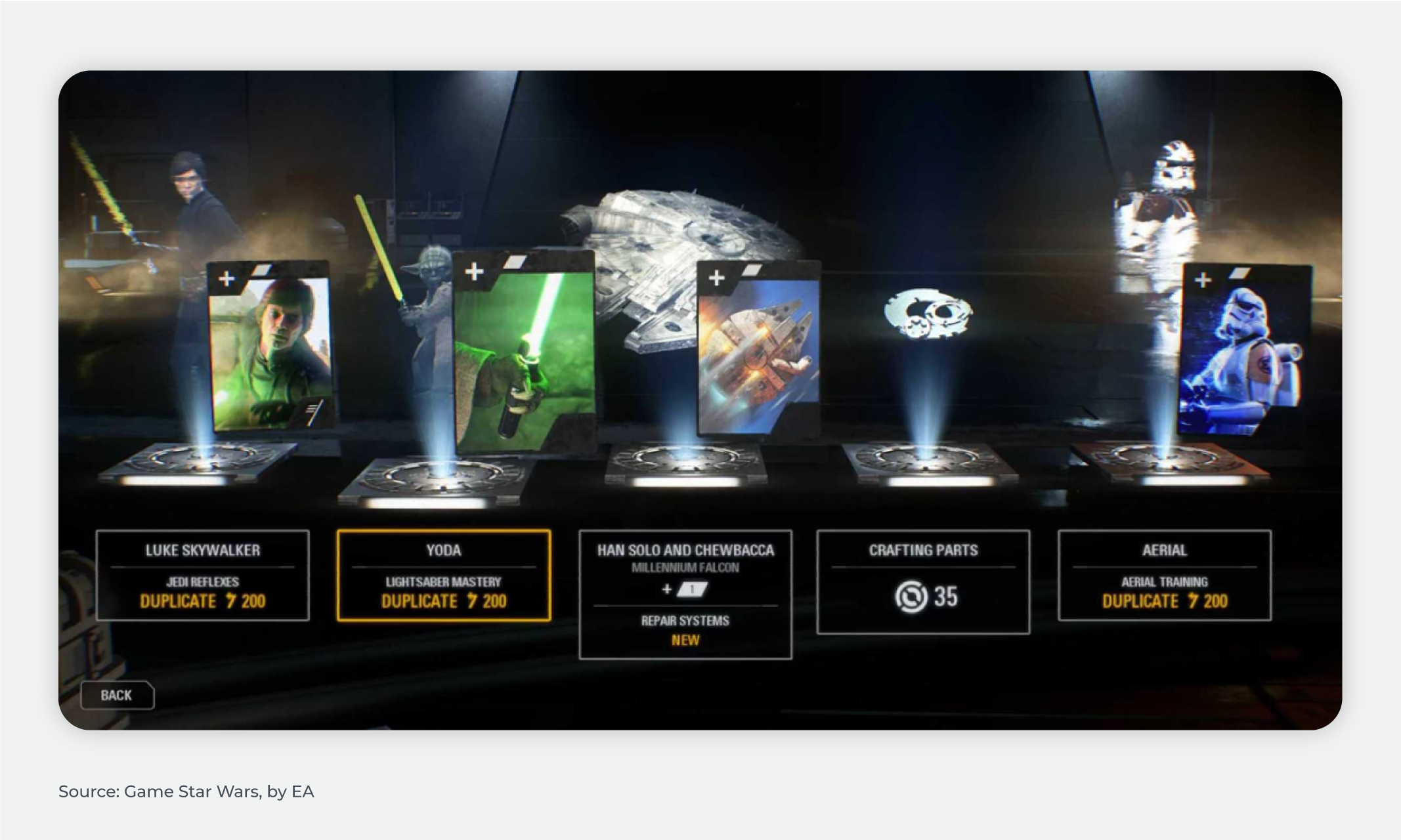 However, arguments arise around using loot boxes in games. This monetization type is considered a controversial mechanism of earning money due to regulatory inconsistencies. The deal is that when players buy a loot box, they pay for randomly picked items from a list. In most cases, these items are precious and uncommon for players, but sometimes they may be common elements from the store.
Advantages of Games as a Service Model for Players
With games as a service model gaining significant traction among developers and publishers, let's learn more about how GaaS-based games can benefit players:
Players can access a broad assortment of games and play them anytime and anywhere online without downloading and installing on the device.
No need to upgrade your PC or buy expensive high-performing hardware as the brand-new games can be comfortably played online.
Gamers can compete or collaborate with other players online. This way, they have more fun, excitement, and remain social when interacting with other players.
GaaS allows users to start games for free and then, if necessary, buy additional features and items to power up characters or weapons.
Cloud games can offer players updated content and rewards at any time.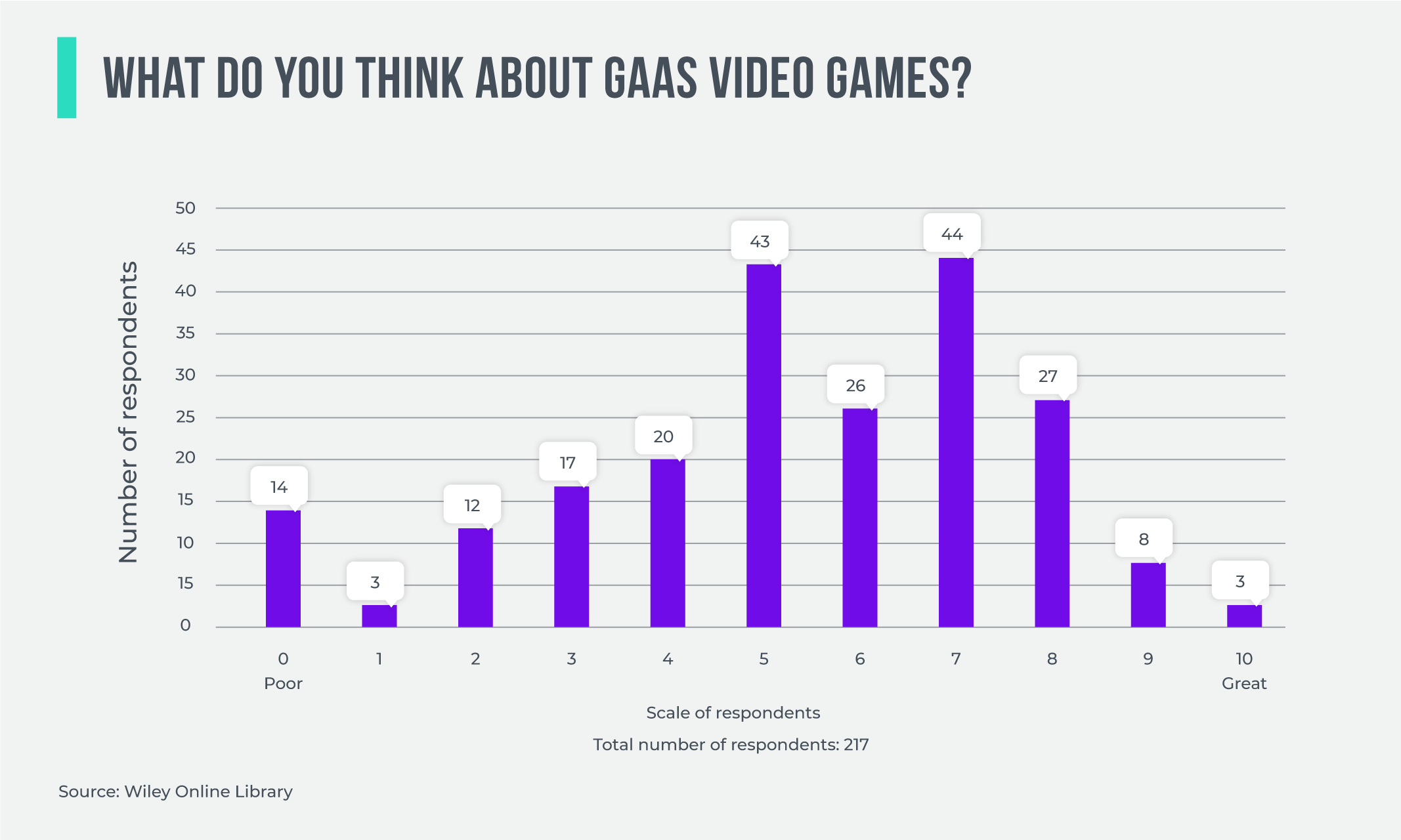 Players appreciate these perks; they like to get fresh DLCs and are fond of playing their favorite games for as long as they want.
The Impact Of GaaS On The Gaming Industry
The games as a service market can be measured by the fast-paced distribution of cloud gaming. The GaaS approach is still gaining popularity and pushing the industry forward.
ABI Research states that 5G technology and increased cloud gaming services will drive the market to US$4.5 billion and 42 million online gamers by 2024, with over 2-fold CAGR between 2018 to 2024. Another survey projects the online gaming industry will reach US$8B dollars in the next five years, which would be an 8-time increase since 2018. One key factor of this growth could be the rise of 5G technology, which allows high transmission speeds of over 10 Mbps.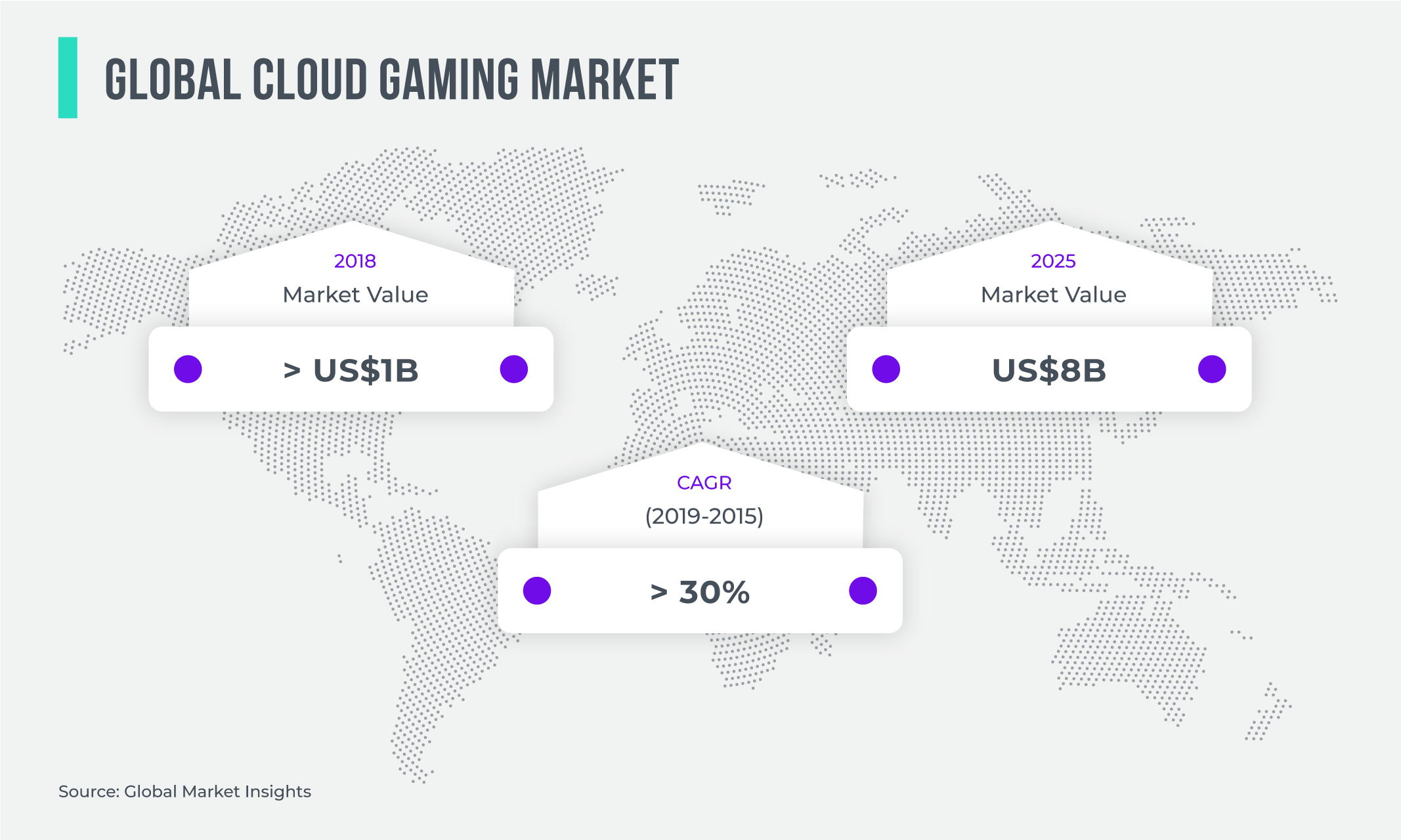 GaaS has transformed the gaming industry and appears to be a beneficial business model for developers, publishers, and players. The following key factors are driving the success of the GaaS model:
Developers take advantage of the GaaS approach by releasing the game and updating it later with DLCs, without the need to launch a sequel.
Gaming companies don't need to heavily invest in starting a game. Instead, they employ the CRM systems accountable for interaction with customers, gathering data, analyzing it, and adjusting the product accordingly.
With GaaS, businesses save on budget. It's more expensive to launch a new game than update an existing one. Therefore, the games as a service model allows for game updates whenever needed and reduces production expenses.
Consistently releasing DLCs for games is an endless revenue-generating source for both developers and publishers.
The switch from a fixed price for games to multiple, coordinated monetization types enabled businesses to earn more while creating developing and evolving products. GaaS titles live for many years, keeping players engaged for as long as games are designed properly.
Plus, gamers attached to their games can create communities to share their experiences, cultivating loyalty to the brand's products.
To Sum Up: Dedicated Game Development Outsourcing with Innovecs Experts
The benefits of games as a service model have revolutionized the gaming sector, fostering the adoption of this model by multiple modern companies across the globe. Custom software development outsourcing can be helpful if you seek a trustworthy partner to build an effective GaaS-enabled product.
Game development with Innovecs allows our clients from all over the world to create a game from square one, improve current products, and enhance game design with innovative technologies and solutions. By outsourcing to a team of top-tier professionals, our clients save time and money without compromising the quality of the product.
Our expertise can help complete many tasks and overcome various issues in game development, including and not limited to:
Build a brand-new game – if you don't have the right team in place, we can help turn your ideas into reality by designing an innovative and advanced product.
Power-up your team experience to launch your game faster – With deadlines pushing your team, outsourced specialists may be the solution to alleviate the tension and seamlessly finish the development process.
Porting games to new platforms – Once a game is successful within a single platform, it's time to distribute it to new ones using robust and proven technologies.
Fill the gap of lacking skills – The need for expertise in 2D and 3D animation, visual aesthetics, level design, or full-scale mobile game development can be fulfilled with our team.
Innovecs has vast experience in delivering services for small, mid-size, and even large-scale publishers. Our developers cooperate with the client's team to enhance their performance and achieve the desired result. With Innovecs, you can rest assured that the entire development process will be completed as planned and agreed upon.