There is a lot of research that must be done before deciding whether or not it is worth going into the virtual reality in gaming industry. We examined the market, the possibilities and capabilities and we would like to share it with you.
AR, VR, MR or VAMR
First of all, let's define the difference between virtual reality, augmented reality and mixed reality. Virtual reality is complete immersion using special equipment such as headsets, goggles etc. Augmented reality adds something or augments the real picture you see on the screen with a computer-generated input. Mixed reality is a combination of the real and virtual world where physical and virtual objects exist side by side and interact in real time.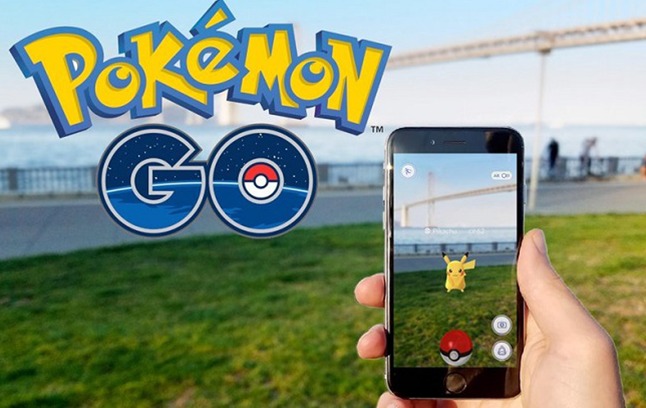 The first big success in augmented reality development was the mobile app Pokémon Go. It generated more than $850 million dollars in total revenue and attracted a half billion users worldwide. This game did more to boost the popularity of augmented reality than any PR or marketing agency could ever do. The biggest thing users enjoyed most about this app is that you could play the game without having to buy any extra complimentary devices. Anybody could just pick up their phone and start playing. The release of Pokémon Go was the indelible moment for augmented reality and consequently for virtual reality as we will find out later. 2016 was a good year for virtual reality in general. Not only did many start-ups begin popping up and attracting a lot of investments, but it was also a record setting year for those investments. The total amount of investment into the virtual reality in gaming industry was $2.3 million dollars in 2016.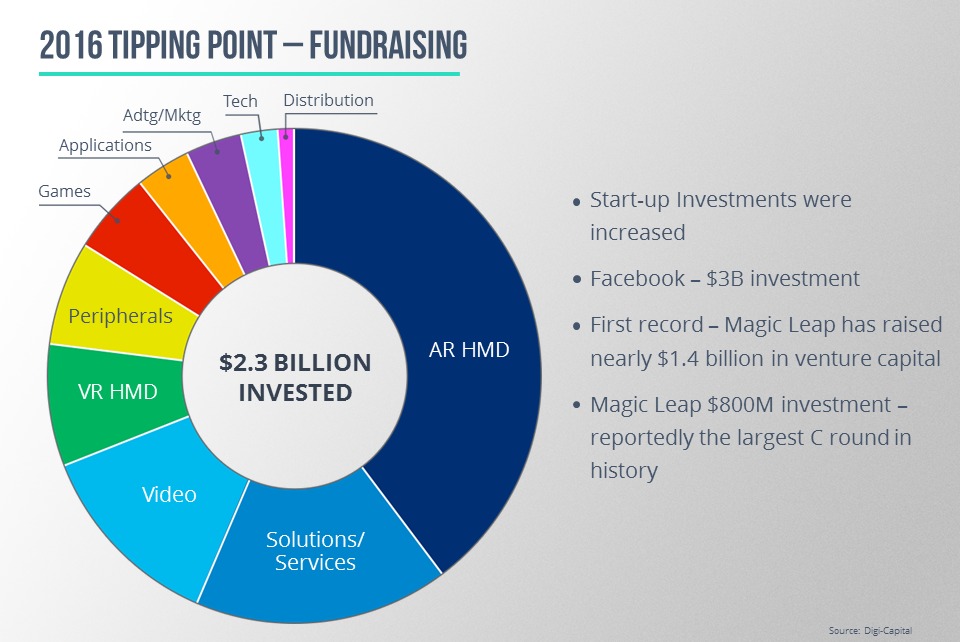 Furthermore, let's take a closer look at Magic Leap which raised a total of $1.4 billion in venture capital and $800 million in the third stage of funding from Google. This is an unheard-of amount of money for one start-up.
2016 was a Great Year for VR
In 2016, industry giants such as Samsung, Facebook, Sony, HTC and many others released virtual reality headsets which complemented or augmented the devices users already have. For example, Samsung's headset complemented their mobile phones, Sony's complement Play Stations and so on. But the biggest question is: how many of these VR headsets were sold in 2016? This is very important because we need to understand the potential audience we have as developers, in other words, for whom are we creating these products.
The award for the most sales in 2016 went to the Google Cardboard with 84 million sales. As you may remember, these were cardboard glasses, which cost peanuts. All you had to do was insert your phone into the cardboard and instantly you have access to virtual reality. However, this number is deceiving because Google partnered with companies such as Coca-Cola and McDonald's as part of a marketing strategy to hand out Google Cardboard headsets. For example, in every Happy Meal sold, there was a Google Cardboard included. Nevertheless, this counted as a sale. The closest competitor was Samsung Gear VR with 4.51 million sales. As for game consoles, PlayStation VR currently enjoys a total monopoly on console VR and sold a total of 750,000 headsets, HTC Vive sold the most headsets for desktop VR with 420,000 total sales.
It is important to keep the above information in mind when we take a look at which device gamers prefer to access the virtual reality world. It turns out that 46% of users prefer to use a PC, 28% prefer a console and 26 % a mobile device. How do we explain this? The target audience for virtual reality in gaming industry are gamers who have computers that are powerful enough to handle the technological demands of VR. So even though more mobile headsets were "sold" in 2016, the demand for future VR development is for desktop gamers.
VR Platforms
When we look at the first platforms for mobile phone VR such as Google Play, the content is very poor. There is a relatively low number of users and no one wants to invest in this area, only experiment. As a result, they only produce demo versions or simplified versions of these devices or shortchange the users with graphics. Facebook has the Oculus devices but the platform itself has not been fully developed. There were many attempts made to incorporate VR into the social media sphere, but currently it is not developed enough to make VR sociable.
The most successful platform where you can place your apps is Steam VR. Its user base is 13 million strong and is compatible with pretty much and VR headset for desktop. You also have Oculus as an option, however its user base is much smaller only 40,000 users. If you combine this with the fact that it is only compatible with other Oculus gear, we can see why it does not attract much attention from users.
Everyone is wondering which VR solutions Apple will provide users with the pending release the next generation iPhone as well as the new bells and whistles of iOS 11. Which options will be available to both VR developers and users remains to be seen but with Apples' track record of technological advancement expect them to become a real player in VR across all platforms.
Who are the VR Users?
Recently there was an intercontinental survey conducted to find out whether or not people were planning to buy VR products in the next 6 months.
In a survey conducted, it was determined that somewhere between 4-16% of the people are already willing to buy VR products, 21-39% are on the fence and 41-62% said they will not buy anything. Perhaps, with the proper PR and marketing campaigns, the people on the fence as well the naysayers will come around, but there of course remains a lot of work left to be done. However, we must also keep in mind that currently VR has only about a 1% market share of the gaming market and we expect the early majority of users to connect to VR at best in 2020.
Today, we have four types of users: the immersed console player, the starstruck explorer, the high-earning virtual tourist and the engaged mobile crusader. If we look at the immersed console player, these are males aged 18-24 who are the only demographic who prefers PlayStation VR over everything else. We can contrast this with the starstruck explorer who are women of the same age group, 18-24, but they prefer content connected with tourism, celebrities, fashion etc. A good target audience for mobile software development services would be the high earning virtual tourists. These are men 35 and older, they have less time to spend on VR due to other commitments, but they are open to VR on their mobile devices. Finally, the engaged mobile crusaders, women 35 and older, are likely to try VR if their children are already using it. They may like it they may not, but whatever their kids are using, the engaged mobile crusaders will use as well.
Bottlenecks in VR
If we look at some of the problems or bottlenecks these users are experiencing it is first and foremost costs. VR devices are expensive and could cost somewhere between $800-$1200 for desktop devices. Keep in mind, that if they do not have a computer that's powerful to accommodate these devices, then they will need spend extra for the computer. Also, when you are using VR devices you will be jumping, lunging, waving your hands and moving a lot which means that you will need about 10 ft² around your computer to fully enjoy the experience and not everyone has so much extra space. Combine this with the installation difficulties and poor support system it is easy to see why VR currently has only a 1% market share.
On the bright side, game software developers are constantly coming up with new innovations in terms of technology and content. In 2017, more than 10,000 VR high-quality applications will be available to users and we will see top game development companies and top titles in the VR industry. Expect VR to get more social with Facebook leading the way by providing multiuser virtual universes in addition to VR helmet adaptation.
One thing is for certain: both VR and AR are worthwhile investments. According to an estimate by Digi-Capital, AR is expected to rake in $90 billion by 2020 and VR $30 billion. With the large amounts of investments, the current issues in VR and AR will be removed by virtual reality software developers in the near future.
Summary
Overall the future of VR, AR and MR looks very promising and we can't wait to embrace the coming of the VAMR Era. Be sure to start investing in this industry now to make sure that your business does not get left behind. With the speed technology evolves nowadays, virtual reality will cease to become a royalty for the select few and become the household staple of the future.